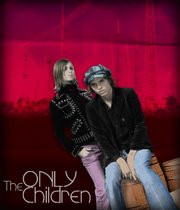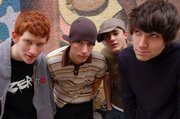 There are more than 300 local bands listed on Lawrence.com.
Most of them are worth a listen.
Here are 10 that newcomers to the city should go out of their way to check out. Some are loud, some quiet. Some angry, some happy. All are very good at what they do.
Ad Astra Per Aspera
The band Ad Astra Per Aspera shares more than just its name with the Kansas state motto. "To the stars through difficulties" has become something of a personal credo for the five-piece. So far the group has succeeded in crafting a sound far removed from other acts in Lawrence's indie rock scene by blending male/female harmonies with eccentric grooves and arrangements complicated enough to rival the prog-rock acts of the '70s.
Archetype
Veterans of the Lawrence hip-hop scene since 1999, Archetype has expanded from a duo of vocalist/DJ Jeremy "Nezbeat" Nesbitt and vocalist Isaac "iD" Diehl to a live band of five members. That means less reliance on sampling, but no fewer fluid grooves and provocative lyrics.
Dead Girls Ruin Everything
After the demise of Ultimate Fakebook and Podstar, several ex-members united to give life to Dead Girls Ruin Everything. Although the band's peculiar name doesn't exactly scream "power pop," its infectious rock sound places as much emphasis on melody as rip-snorting guitar licks.
Drakkar Sauna
Only one microphone is required for the two-headed musical oddity known as Drakkar Sauna. The duo utilizes acoustic guitar, mandolin, harmophone, bass drum and various rattling devices to craft curiously titled song selections such as "Get Kazoo People" and "Spear for When the Bear Come from Space."
Fourth of July
Three Hangauer brothers power this six-piece ensemble that employs horns, tambourines and slide guitars with lush results. After five years together, the band's debut album, "Fourth of July on the Plains," is enjoying a distribution deal with the beloved Saddle Creek label.
Lawrence Letterday
With a debut record, "Until This Girl Goes Home," and plenty of club dates under its collective belt, Lawrence Letterday opts for tight, catchy pop tunes that are slickly produced and performed. Quite an accomplishment for a group composed of 15- and 16-year-olds from Free State High School.
The New Amsterdams
Former Get Up Kids frontman Matt Pryor forgoes distorted guitars to deliver hummable, acoustic-based pop songs with lush accompaniment and introspective lyrics. The band has released six records in seven years on the Vagrant label.
The Only Children
Former Anniversary frontman Josh Berwanger and wife Heidi-Lynne Gluck (formerly of Juliana Hatfield's Some Girls) sport a musical marriage that's results in a back-to-basics roots rock style. The band's latest album, "Keeper of Youth," features the anthemic track "Tired of This Town."
This is My Condition
Musician Craig Comstock doesn't have to worry about dealing with prima donna lead singers, irresponsible drummers or lazy guitarists. That's because Comstock performs all those duties himself in his solo act dubbed This is My Condition. The key word in the name is My, as he delivers a personal noise-rock symphony by utilizing a drum kit, an electric guitar, a loop device and a microphone.
Volunteers
Frontman Tyler Jack Anderson describes Volunteers as "folk-rock with our own twist. But it's got that indie vibe." Formed prior to KJHK's Farmer's Ball competition two years ago, the band mixes pedal steel guitars with a traditional rock lineup to evoke the type of sounds that could be alternate takes on "The Last Waltz" soundtrack.
Copyright 2018 The Lawrence Journal-World. All rights reserved. This material may not be published, broadcast, rewritten or redistributed. We strive to uphold our values for every story published.