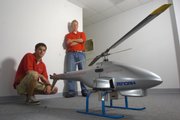 Viking Aerospace may seem to be in a holding pattern as the 2-year-old Lawrence-based company awaits Federal Aviation Administration regulations for lightweight, unmanned aerial vehicles (UAVs) to send its unmanned helicopter surveillance systems soaring.
But the brainchild of two KU graduate engineering students and their professor is off the ground and flying, attracting the attention not only of industry professionals and investors, but also of law enforcement agencies and insurance adjustors.
Company leaders say the downtime caused by regulators provides them with a "controlled growth" phase to perfect the unmanned helicopter systems that will enable buyers to take surveillance cameras into otherwise dangerous or unstable areas, like hurricane- or tornado-ravaged sites, as well as security-sensitive installations.
"Unmanned aircrafts are pretty new, but the field is growing and growing," said Bill Donovan, Viking's lead design engineer. "They're particularly useful for surveillance. Currently the vehicles aren't very autonomous, but eventually you could have a helicopter that could be stationed on the roofs of universities or power plants that could make hourly surveillance flights. It's a big market."
Attracting investors
Donovan, 24, established Viking Aerospace with then-fellow KU graduate student Lance Holly and their aerospace engineering professor Richard Colgren after the students designed a small lightweight, remote-controlled aircraft. With Colgren's help, the pair applied for assistance from KU's Center for Research Inc. and found investors and interested board members from the aerospace field.
"Lance and I talked about it and the possibility of starting a company," Donovan recalled. "We talked to (Colgren), and he got very excited about it and brought the investors together. We have a really unique set of skills. Lance and I are very different and so is Dr. Colgren, so we fill a lot of the voids."
Holly now serves as Viking's director of UAV projects and essentially handles the day-to-day operations, Donovan said. Holly is one of the company's two full-time employees, while Donovan, who is completing his aerospace engineering doctoral studies, works part-time for the company along with a few other employees.
Colgren serves as the company's vice president. J.L. Ferrell Jr., an aerospace engineer and former designer who retired from Lockheed Martin Skunk Works in 2002, serves as Viking's president, while William Schweikhard, who boasts more than 50 years in the industry, is chairman of the board for company. Schweikhard also has taught KU's aerospace engineering students.
The Wolverine
Together the team has developed the Wolverine, an autonomous gas-powered helicopter capable of automatic flight with a two-person ground-based crew. According to Viking Aerospace's Web site, the 15-pound helicopter can carry "a variety of payload systems, including multispectral cameras, laser altimeters and air-sampling equipment" to enable it to do aerial surveillance, topographical data collection, crop or livestock observations, detection of chemical or biological agents, or environmental monitoring.
The Hawkeye
In addition, Viking also has developed the Hawkeye unmanned aircraft system. On its Web site, Viking officials describe the Hawkeye as "an extremely lightweight, portable UAV utilizing a modular design, which expands the flight envelope of the aircraft to accommodate a wide variety of missions."
Viking also provides services for companies interested in using the Yamaha RMAX helicopter, including integrating and testing an autopilot system that allows for auto-takeoff, waypoint automatic landing and loitering.
Innovative territory
The field remains so new, Donovan said there are "fewer than 100" firms exploring UAV aircraft with "about five to 10 big companies" operating in the field. There already are two other small companies in Lawrence, he said. "We do not compete with them, but offer our services to them." Viking Aerospace is part of the Kansas UAV Consortium, a group of UAV-related companies working to develop the industry in the state.
Donovan said the Wolverine would have been an ideal choice for rescue workers and insurance companies interested in photographing the destruction caused May 4 by the catastrophic F5 tornado that leveled Greensburg.
"We really would have been all for it," Donovan said. "Taking the helicopter down there and helping out. We could put in the cameras - different types of cameras - and really assess the damage."
Grounded - for now
But without FAA regulations on the vehicles, Donovan said the Wolverine essentially remains grounded for any such project. Currently, the FAA offers only experimental certifications for such vehicles designed for civil operations, such as Viking's Wolverine and Hawkeye lines. There are military unmanned aircraft currently in use under other FAA regulations, including the U.S. Army's Shadow RQ-7B airplane.
"Unmanned Aircraft (UA) cannot be described as a single type of aircraft," the FAA notes on its Web site. "UA range from a 12-ounce hand-launched model to one the size of a 737 aircraft, and they encompass a span of altitude and endurance capabilities. UA are flown by a pilot via a ground control system or autonomously through the use of an on-board computer, communication links and any additional equipment that is necessary for the UA to operate safely."
Donovan said the FAA's caution in licensing UAVs for civilian use is understandable.
"The more of these types of things that you add to the market, there are going to be more mishaps," Donovan explained. "There are a lot of things that can go wrong."
Donovan said regardless of their size, the UAVs still must adhere to general aviation standards and safety guidelines. "We do have to design these aircrafts to the same standards as other aircraft," he said. "If they crash, they may crash into something. We certainly don't want a UAV to run into a manned airplane.
"The FAA is pretty restrictive right now," Donovan said. "It has been working on the regulations for UAV for several years. They've brought in new people to kind of hammer out the details and recently came out with some short-term regulations while they work on the standards. Until that time, they're doing it on a case-by-case basis."
For now, UAVs are "always operating within a line of sight of a ground crew," Donovan said. "That's a common misconception - that the aircraft is doing something on its own." Instead, he said, the aircraft are piloted in a very controlled manner.
"The difficulty with these aircraft now is that they aren't completely user-friendly," Donovan said, adding that they require extremely highly qualified pilots to maneuver the crafts.
"With our vehicle, it's small enough that if too many people start using it without proper training and abilities, they can get into trouble," Donovan said.
What's ahead
Still, he envisions a time when Viking Aerospace not only develops systems, but also provides training and support to companies interested in purchasing the system from them.
For now, Donovan said Viking Aerospace is content with waiting and making small growth gains.
"Our business model is to be a small, efficient company," he said. "Things have been growing nicely for the last two years and we see that continuing.
"The services we provide to Lockheed Martin and other companies, we can provide the services they want over the next three years by only adding a few employees," Donovan said. "We have two pilots who have done piloting for us on a project basis, and we'll keep using them. We'll probably add one or two engineers in the next two years.
"We feel like there's this commercial market ready to be developed," he said. "If in a year the FAA comes out with these regulations and starts issuing certificates for civilian UAVs, we just want to be ready for that. We want to be one of the companies to do that."
Copyright 2018 The Lawrence Journal-World. All rights reserved. This material may not be published, broadcast, rewritten or redistributed. We strive to uphold our values for every story published.