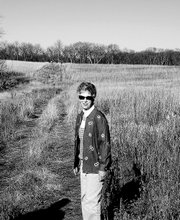 In northeastern Douglas County, a variety of rural habitats are being preserved for research and public viewing through donations made to the Kansas University Endowment Association.
Among the donors is the Robert McColl family, which stepped forward in December 2006 to contribute $270,000 as a gift to the Endowment Association so it could complete the purchase of 140 acres of land near the Leavenworth County line.
The land, now called the Suzanne Ecke McColl Nature Reserve, is named after Robert McColl's wife. It is part of more than 3,200 acres making up the Kansas University Field Station and Ecological Reserves, which is owned by the Endowment Association and managed by the Kansas Biological Survey.
The McColl reserve was needed to prevent future development from encroaching on other reserved land, in particular 10 acres known as the Rockefeller Prairie, said Ed Martinko, director of the Biological Survey. The adjacent McColl reserve now acts as a buffer for the prairie. In that prairie are two federally protected species known as the western prairie fringed orchid and Mead's milkweed.
"Development on adjacent land becomes a threat to the survival of some (plant) species, and this allows us to protect those species," Martinko said. "This is a very exciting opportunity for us."
The McColl reserve, along with the other reserve land, is used for habitat research.
Robert McColl, former chairman of the KU geography department, called the 140 acres a "hidden gem."
"It's major research source," he said. "It's a fantastic area, and on a clear day it is just a magnificent view."
The land includes a bluff that provides a view of the Kaw River Valley and Lawrence.
At the beginning of the summer, fundraising for additional land purchases was under way. Donations would allow the endowment association to complete the purchase of an additional 40 acres that would complete the prairie buffer. That purchase could come by the end of summer, Martinko said.
Plans call for the McColl reserve to have nature trails and educational kiosks for visitors.
Other donors also have helped purchase the buffer land, but the McColl donation was the largest, Martinko said.
The McColl reserve is one of many projects the endowment association has played a role in during this past year.
In May, two KU alumni, Tom Rudkin and his wife, Jann,donated $250,000 to help fund the renovation of a historic two-story house at 704 W. 12th St. The endowment purchased the house in 2001. When completed, it will be used to house visiting international scholars and their families.
The endowment association is the official fundraising and fund management entity for KU. It is an independent, nonprofit organization. KU gets less than 24 percent of its funding from the state, with the remainder coming from donations, fees and grants.
In the 2006 fiscal year, which ended June 30, the value of endowed funds had reached $1.05 billion.
Other projects under way
Here is a list of other funding projects the Kansas University Endowment Association has been involved in during the past few months:¢ The Christine A. Hartley Centennial Professorship was funded with a $500,000 gift from alumna Christine Hartley and her husband, Ross Hartley, to celebrate the KU School of Nursing's 100th anniversary in 2006. Professor Judith J. Warren, director of nursing informatics in the KUMC Center for Healthcare Informatics, was invested with the professorship.¢ Franklin and Beverly Gaines donated $1 million to support cancer research by funding a professorship at the KU Cancer Center.¢ KU alumnus Larry D. Horner and his wife, Donna Manning Horner, established an endowed $500,000 scholarship fund for study-abroad applicants.¢ Jane Voorhees gave $50,000 to establish the Vernon Voorhees II Graduate Scholarship in the name of her late husband, a KU alumnus.¢ More than $2 million was raised at a Washington, D.C., fundraiser for the Dole Institute of Politics at KU. The funds will be managed by the Endowment Association.¢ Alumni Tom and Kathleen Pott provided a $200,000 gift for scholarships.¢ A $4 million gift from KU alumnus Carl C. Krehbiel honors his parents, alumni Floyd H. Krehbiel and Kathryn Krehbiel. It is being used to construct a new scholarship hall at 1323 Ohio.¢ A new professorship is being funded through a $1 million gift to coordinate a statewide network of cancer care providers. Capitol Federal Foundation of Topeka made the contribution as part of the Kansas Masonic Foundation's Partnership for Life fundraising campaign.¢ A $2.1 million gift from Madison "Al" and Lila Self created a new scholarship and mentoring program at KU in engineering leadership for 15 freshmen.
Copyright 2018 The Lawrence Journal-World. All rights reserved. This material may not be published, broadcast, rewritten or redistributed. We strive to uphold our values for every story published.