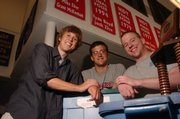 The basement of Bailey Hall is home to several KU students peering into their computer screens. They're not studying for classes. They're using these hot summer months to begin early research for another demanding year of debate.
It's this hard work that has benefited the KU debate team for years. Even with Scott Harris' 16-year history as KU debate coach, there's no disputing his satisfaction of the past season.
"We had one of the best years that we've had in a while," Harris said. "This year was very rewarding because we probably exceeded expectations for what people thought we would do at the beginning of the year."
Those expectations were surpassed when KU sent two teams to the National Debate Tournament from March 30-April 2 in Dallas. It was KU's 55th trip to the tournament since 1948, according to the National Debate Tournament Web site.
Brett Bricker, Wichita senior, and Andrew Jennings, Silver Lake senior, advanced to the Elite Eight. Lindsey Lathrop, Overland Park alumna, and Nate Johnson, Manhattan senior, advanced to the Sweet 16. All but Lathrop are returning in the fall.
The debaters all seemed to have high outlooks throughout the year. Lathrop said she expected to make it to the National Debate Tournament. She added that KU had also competed at the national level with the Cross Examination Debate Association for at least the past three years.
"We thought we'd do well," fellow debater Bricker said. "We hoped to make it (to nationals)." Bricker and Jennings were ranked third in the country prior to the tournament.
Harris said that rankings are based on a points system, in which teams accumulate points throughout the year based on debate performances. From September through April, "we have teams traveling almost every weekend," he said.
Splitting his time between coaching and teaching communication studies, Harris said he traveled with debaters for 19 weekends this past season. The weekends feature tournaments that last three days, Harris said. Though a busy debate schedule can be trying on a coach doubling as a teacher, the art of balancing duties has also been placed on students.
Bricker, who has debated for KU for the past three years, said that hours of research are required daily. Late spring in particular was "pretty rough," leaving him with "little sleep," he said.
Lathrop said that the annual topic - whether or not the U.S. Supreme Court should overrule one or more of four specific cases, including Planned Parenthood v. Casey - was "not too difficult" and a topic that was "easy" for her to execute.
Though debaters' research throughout the year could be compared to typical schoolwork, the two are very different to Harris.
He is thankful for the opportunity to work with students outside of the typical learning environment, and sees a large difference between teaching and coaching.
"Teaching is a lot of fun in the classroom, but you don't really get to work with students and get to know them in incredible depth," he explained. "With the debaters, when you're traveling with them, you really get to know them. You get to know their strengths and weaknesses, how they think."
Harris, who received the award for 2006 Debate Coach of the Year at last year's National Debate Tournament, appears to have a devotion to debate that influences students for an incredible length of time.
"The coaches are people who influenced me from when I was in high school," Lathrop said with great enthusiasm. "It was really good to work with them."
Bricker's outlook for next year is high, as him and Jennings make up the only returning KU team that has made it to nationals.
"We hope to make it further than we did," he said.
Copyright 2018 The Lawrence Journal-World. All rights reserved. This material may not be published, broadcast, rewritten or redistributed. We strive to uphold our values for every story published.