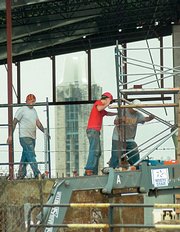 Jim Modig, director of design and construction management for Kansas University, spends a lot of time thinking about future problems.
How many problems would it cause if that air conditioner broke? How big of a mess would it be if that building didn't have heat? What would happen if the roof started leaking in those classrooms?
Thinking about questions like those are how Modig and his staff figure out how to spend scarce dollars that state legislators have devoted to deferred maintenance projects at KU.
"We really try to take a crisis-management approach," Modig said.
Modig said that's the way his office has to approach the issue because there are far more projects than there is money to complete them. That means he tries to tackle the projects that have the potential to create the most disruption to the university if they're allowed to go unaddressed.
For this year, that means doing about $6 million in repairs to the university utility tunnels. Those tunnels provide steam heat to buildings all over campus, and many of the tunnels are 100 years old. That's an example of a piece of infrastructure that, if it failed, could cause entire sections of campus to be closed down, Modig said.
The university also plans to do about $3.3 million worth of mechanical system improvements on the first and second floors of Wescoe Hall and $640,000 worth of improvements to 50-year old exhaust hoods in the laboratories at Haworth Hall.
"Wescoe Hall is on the list because it is such a large building with so many classrooms that we heavily rely on," Modig said. "The fume hoods in the laboratories are really critical to maintaining safety."
State lawmakers during the last legislative session agreed to partially fund deferred maintenance issues at regents schools. Over a five-year period, KU is expected to receive about $33 million in funding to tackle overdue maintenance projects.
Modig said that was a start, but it would not come close to addressing all the projects that he has on his list.
"I'm not getting to everything that I would like to get to," Modig said. "But you are very grateful that you have funding to work with."
Modig estimated that KU has about $180 million worth of deferred maintenance projects. He said that list grows every year as university buildings and infrastructure age.
"The list is growing at about $30 million per year, and we're getting about $6 million a year, on average, to spend," Modig said "So, what it means is that we're falling behind a little slower than we used to."
A shortage in state funding isn't the only issue KU is dealing with when it comes to figuring out how to best tackle the maintenance projects. Lindy Eakin, vice provost for administration and finance at KU, said energy costs and the rapidly increasing costs of construction materials has been a challenge.
Eakin said rising copper and steel prices have been major factors in the costs for several of the more needed maintenance projects at the university. He said the increases simply mean that crews haven't been able to do as much work as the university would like.
"For example, when we're replacing the 50-year old fume hoods in the laboratories, we should be replacing the 50-year old cabinets and sinks that are below them. But many times we're not able to."
Modig, though, is glad to have what funding he has. He said during the five-year period, he'll be able to address issues in the critical utility tunnels and at 11 university buildings.
Design work soon will be under way for many of the projects that are part of the state's fiscal 2008 year, which began on July 1. Modig said most of the construction work will not begin until the spring of 2008.
"It will begin around spring break and basically will be ongoing for the next five years," Modig said. "I tell people it will be a trickle of projects from the spring of each year to the fall of each year. We'll do additional design work during the winter."
Modig said planners are working to ensure that the projects aren't too disruptive to classes and teaching activities on the university.
"But it is going to take a lot of work on everybody's part, and a lot of patience too," Modig said.
Priority projects
Kansas University's priority deferred maintenance projects include:¢ Utility tunnel improvements, $8.8 million. Repair and replace aging tunnel systems that route steam, electricity and communication cabling to 50 buildings on the main campus.¢ Wescoe Hall, $4.9 million. Replace original 1973 air-handling units on the first, second and third levels. Also, fire protection systems will be reworked to meet code.¢ Murphy Hall, $4.5 million. Repair and replace heating and air conditioning systems, elevators, upgrade life safety systems.¢ Malott Hall, $2.63 million. Replace at least four 30-year-old air-handling units and up to 50 laboratory fume exhaust hoods.¢ Haworth Hall, $2.6 million. Replace up to 10 air-handling units, other major replacements and upgrades to fire codes.¢ Lindley Hall, $2.1 million. Replace heating and air conditioning equipment, foundation repairs.¢ Lippincott Hall, $2 million. Replace heating and air conditioning equipment, upgrade fire detection systems, abate hazardous materials.¢ Bailey Hall, $1.8 million. Repair and replace heating and air conditioning equipment, elevator and fire alarm system.¢ Watson Library, $1.6 million. Repair and replace electrical, lighting and heating and air conditioning systems, update fire alarm system.¢ Learned Hall, $1.2 million. Replace heating and air conditioning units.¢ Art and Design, $1.1 million. Replace heating and air conditioning and existing single-glazed windows.¢ Smissman Laboratory, $538,000. Replace heating and air conditioning system and elevator.
KU Medical Center¢ Applegate Energy Center, $8.83 million. Major repair and replacement work on aging chillers, boilers, pumps, fans and motors.¢ Utility distribution system, $2.6 million.¢ Repair and replace some of the 40 transformers that are in excess of 30 years old.¢ Campus exterior maintenance, $100,00.¢ Wahl Hall East Basement, $80,000. Replace air-handling unit.¢ Campus infrastructure improvements, $45,000. Replace condensate return pipe.¢ Mechanical infrastructure, Wichita, $24,500. Replace cooling tower.
Copyright 2018 The Lawrence Journal-World. All rights reserved. This material may not be published, broadcast, rewritten or redistributed. We strive to uphold our values for every story published.