Photo Gallery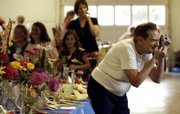 Douglas County Fair 2007
At the Douglas County Fair 2007
It's not just cows, goats and swine being displayed and judged at the Douglas County Fair. There are also cacti and caladiums, hibiscus and herbs, sunflower and sage.
And first thing Thursday morning, dozens of Douglas County's greenest-thumbed residents converged on the fairgrounds to show off the fruits of their talents for the flower exhibition.
"They can bring in a single-stem flower, they can bring in houseplants, they can bring in a flower arrangement, they can pick flowers out of the garden and make an arrangement," said Karen Pendleton, who supervised the exhibition. "Any kind of flower you can imagine, we love to have them out here."
Samantha Schuler, 17, stood in line with a bright pink hibiscus flowering in a vase that was brought from the garden of her family's Lawrence home. She won a first-place ribbon several years back, and was hoping for a repeat.
But Schuler didn't claim too much gardening expertise.
"They'd been there, like, 60 years," she said of the flowers at her home. "I just bring them every year."
August isn't the easiest month for a flower competition in Kansas. The heat and the bugs have a way of undermining the most proficient planter.
"This is one project you work on all year long," Pendleton said. "But it's up to nature at the last minute."
Copyright 2018 The Lawrence Journal-World. All rights reserved. This material may not be published, broadcast, rewritten or redistributed. We strive to uphold our values for every story published.