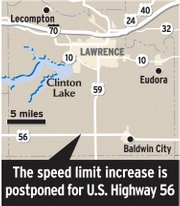 Apparently, the radar gun got jumped last week. The speed limit on U.S. Highway 56 isn't going up to 60 mph just yet.
A week after announcing the 5 mph increase, Kansas Department of Transportation officials now say they first want to talk with school and community leaders.
"KDOT staff plan to conduct meetings with local community, county and school district officials located along U.S. 56 in the four-county area to address safety concerns for schools that may be impacted by the increased speed limit," the agency said in the release.
The counties affected are Douglas, Johnson, Osage and Lyon.
Last week, Tom Mundinger, principal at Baldwin Elementary School Intermediate Center, was incredulous that a speed limit increase was in the offing.
"If, in fact, they put it on hold to talk to those impacted, that's a good sign," said Mundinger, whose school fronts the highway. "I will be thrilled to be part of those discussions. If part of their signing package is flashing lights, then that would better meet our needs."
Kim Qualls, KDOT spokesman, said officials would meet with the three districts that have schools along U.S. 56: Mundinger's school; Santa Fe Trail High School near Overbrook in Osage County; and Northern Heights High School near Allen in Lyon County. Qualls said the outcry by Mundinger and others had no effect on KDOT's decision.
"Actually, nothing changed our minds," she said. "This was something we were looking at. We were looking at the schools before the speed zone changes."
Mundinger doesn't buy that.
"I do think they are hearing from people. I've had several people contact me on it, including Tom Holland," he said of the area's representative in the Kansas House.
As KDOT reviews its decision, Mundinger would prefer a speed reduction in front of his school, from 55 mph to 45 mph. And flashing lights, he said, should be installed to warn about the dangers of a nearby hill.
Qualls said the issue of signs near the schools will be reviewed.
"It's going to vary according to location," she said. "They are going to review all the schools in this program. Where are the speed zones? Where are the locations?
"KDOT will look at what's best for each school. It's not a cookie-cutter, one-size-fits-all. KDOT is really concerned about these schools."
Copyright 2017 The Lawrence Journal-World. All rights reserved. This material may not be published, broadcast, rewritten or redistributed. We strive to uphold our values for every story published.