Baldwin — While most motorists will be pleased the speed limit is being raised on U.S. Highway 56, Tom Mundinger clearly isn't one of them.
Mundinger, principal at Baldwin Elementary School Intermediate Center, said he was shocked to hear the speed limit in front of his school will go up, from 55 mph to 60 mph.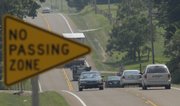 "If they are actually going to raise the speed limit in front of the school to 60, I'm just appalled," he said. "I can't believe anybody with any common sense in their right mind would raise the speed limit coming into town in front of a school to 60 mph. Frankly, it should be reduced instead of raised, especially coming from the top of that hill coming down in front of the school."
The highway that runs in front of the school, which is on Baldwin City's western side, is heavily traveled. A hill west of the school creates a blind spot for motorists traveling on U.S. 56, according to Mundinger and Baldwin City Police Chief Mike McKenna.
Traffic on the highway in Douglas County has increased as much as 50 percent in recent years, particularly near the Douglas-Johnson county line.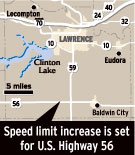 Ten years ago, traffic along the highway in Douglas County ranged from 1,750 vehicles daily on the western side of the county to about 2,765 vehicles on the eastern side. By 2006, the numbers ranged from 1,775 to 4,550.
KDOT spokeswoman Kim Qualls said the speed limit increase will affect U.S. 56 in Osage, Douglas and Johnson counties. She said the change, effective in about a month, will make that entire stretch uniform.
Transportation officials made the decision after undertaking a traffic study because requests were made to raise the limit.
Qualls said KDOT and city officials have discussed whether the speed limit in front of the Baldwin City school should change. The new speed limit affects only areas that are outside cities - and that includes the stretch in front of the school.
"There is discussion between the city and KDOT about annexing that stretch and possibly addressing the situation," Qualls said. "The buffer zone is being considered. KDOT is sensitive to schools."
But Baldwin City Administrator Jeff Dingman said no active discussions are under way between the city and KDOT.
"We've had some contacts with them about the speed limit in front of the school, and I know I've referred a few residents to make contact with them as well," Dingman said. "Annexing that stretch is an option that would help, but it hasn't progressed much further than the discussion stage at this point."
McKenna said it's something that should be done.
"I think that's something the (city) council will have to address and I'm sure the safety committee will address it," McKenna said. "Hopefully, it's something we can all come to an agreement on with KDOT.
"That area has always concerned me, especially with the growth in that area and the school."
Copyright 2018 The Lawrence Journal-World. All rights reserved. This material may not be published, broadcast, rewritten or redistributed. We strive to uphold our values for every story published.