Photo Gallery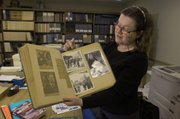 KU Libraries
Shhh!
Wait, never mind. Tell everyone: the Kansas University library system is working to boost its profile statewide and around the country.
"We have rich depth and wide reach in all our collections here, and we certainly want people to know about this jewel here in the heartland," said dean Lorraine Haricombe, who is wrapping up her first year overseeing the 175-employee, six-branch system.
The Journal-World spent some time in recent days touring some of the out-of-the-way spots within KU's libraries, including a collection of 1960s political memorabilia and a lab used to repair books, and talking with Haricombe about the issues facing the system.
That includes a plan under way to move up to 1.6 million lesser-used materials to an annex on West Campus.
"Space is a perennial problem for libraries," she said.
Haricombe said her highest priority is to increase the level of service the libraries give to the public. One of the changes she made on her first year on the job was moving reference librarians up front in Watson Library so that they are immediately available to students instead of being in offices out of the students' view. This semester, KU introduced an "Ask a Librarian" online chat feature.
Another priority, she said, is to call more attention to the special collections housed at KU, including 30,000 photos that depict life in the early 1900s in Junction City and a recently acquired collection of the works of John Bunyan, author of "The Pilgrim's Progress."
Copyright 2018 The Lawrence Journal-World. All rights reserved. This material may not be published, broadcast, rewritten or redistributed. We strive to uphold our values for every story published.