Photo Gallery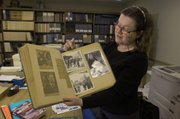 KU Libraries
Kansas University's library system is like many others nationwide: it's short on space and trying to find new ways to connect people with information.
"The content of what we do isn't going to change. How we deliver it, how we interact with people is going to change and is changing all the time," said William Crowe, the Spencer Research librarian.
Here are some of the trends happening within the system.
¢ Move to West Campus: Library employees are in the midst of a plan to move up to 1.6 million lesser-used materials to a storage annex on West Campus, where they will still be retrievable. About 250,000 items will have made the move by this summer, dean Lorraine Haricombe said.
"That will enable us to look at different ways of transforming space to create learning spaces for our students" and places for staff members to work collaboratively, she said.
¢ Digitizing collections: More and more of KU's materials will be going online in coming years, Crowe said. For example, staff at the Anschutz Library recently received a grant to digitize the aerial photos of Douglas County, and KU recently finished adding its 600-some medieval manuscripts to an international project overseen by Columbia University that's about to go online.
"Our job is to connect the dots - to connect people to information," Crowe said. "That's nothing new. We've been doing that since the 1860s."
¢ Public outreach: Haricombe said she wants students to see the library as "the place to go," and not just for silent study.
The trend has been to reshape KU's libraries into places that are friendly for students and staff to get together. One example is the main floor of Watson Library, which features a snack bar, coffee and student-friendly reading chairs where a main circulation desk once stood.
Both Watson and Anschutz libraries have two designated "quiet zones," and the rest of the buildings are fair game for talking at a normal volume.
"It's a very different image of what libraries used to be," she said. "We're encouraging students and the broader KU community to come into the library and have everything available."
Copyright 2018 The Lawrence Journal-World. All rights reserved. This material may not be published, broadcast, rewritten or redistributed. We strive to uphold our values for every story published.