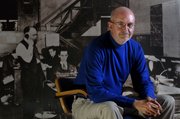 Tom Eblen describes mentoring young KU journalists who came to seek his advice
Tom Eblen describes his reaction to receiving the "Master Editor" award from the Kansas Press Association
During his 15 1/2 years as the adviser of Kansas University's student paper, Tom Eblen had a silent way of giving his seal of approval.
Each morning, he'd read through the day's copy of the University Daily Kansan, mark it up with a red pen and post it in the newsroom for students to see. On select days - when the paper was full of interesting, well-written content and free of glaring mistakes - he'd write two words at the top of the front page: "Good paper."
"It was kind of like the gold star in Sunday school," Eblen said.
This month, it was Eblen's turn to receive some praise. During its annual convention in Topeka, the Kansas Press Association honored him with the Clyde M. Reed Jr. Master Editor Award.
The award, named after the late editor of the Parsons Sun, recognizes a lifetime of achievement in Kansas journalism.
"Obviously, I was very pleased," Eblen said. "I had no idea I'd been nominated, but at age 70, it's nice to see something like that come along."
Eblen worked at newspapers in Columbia, Mo., and Amarillo, Texas, before joining the Kansas City Star in 1960. He spent time as city editor and managing editor of the Star and was editor and general manager of the Fort Scott Tribune from 1980 to 1986 before coming to KU.
As general manager and adviser for the Daily Kansan until his retirement in 2001, Eblen oversaw the paper's business affairs and advised students about writing and editing. He helped many students who came to his office seeking direction either with a particular story or with life in general.
"What struck me when Tom was my professor was the way he presented himself, which is calm, quiet and a little bit scary," said Jeff Ruby, a senior editor at Chicago Magazine who studied journalism at KU in the 1990s. "A razor-sharp comment was usually on his tongue to show that nothing had escaped him and that he was 100 percent in control of the situation."
Eblen posted anti-smoking signs on his office window, which faced the dock where students customarily went for smoke breaks. Each semester, he and his wife, Jeannie, invited students to their home for a home-cooked barbecue meal with all the fixings.
"We knew that once a semester, whatever they were going to go out and do on a Friday night, their stomachs were lined," Eblen said.
The most common mistake he saw young journalists make, he said, was not asking enough questions.
"I think that Tom's quality to me that has become most evident is his ability to teach sensitively - to teach young reporters and young editors who are just learning the craft how to do it better without hurting their feelings and getting personal," said Doug Anstaett, executive director of the Kansas Press Association.
Today, Eblen stays busy by traveling the state as a newspaper consultant, doing what he calls "tuneups." He critiques issues of the paper and sits down with employees one-on-one to discuss what the staff might do better.
While talking about that role this week, Eblen reached into his pocket, pulled out a red pen, held it up and said, "I still use it."
He also does some freelance writing, serves as president of the Endacott Society, a group of KU faculty and staff retirees, and gives speeches about newspapers for the Kansas Humanities Council.
Copyright 2018 The Lawrence Journal-World. All rights reserved. This material may not be published, broadcast, rewritten or redistributed. We strive to uphold our values for every story published.