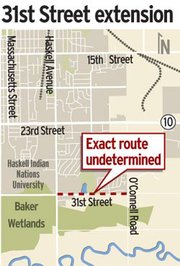 -->
City commissioners are interested in developing plans to extend 31st Street from Haskell Avenue to O'Connell Road.
Commissioners at their Tuesday evening meeting unanimously agreed to formally accept an $800,000 federal earmark to do preliminary design work and purchase road right of way.
"When we consider moving traffic from east to west in the southern part of town, this is going to be a very important road," City Commissioner Mike Amyx said.
But commissioners said the community shouldn't view the project as a substitute for completion of the South Lawrence Trafficway, which under the state's current plans is proposed to go through the area just south of 31st Street.
"I hope none of us are talking about a de facto trafficway," City Commissioner Mike Dever said. "I don't think any of us have any motives other than to relieve gridlock on 23rd Street. But for us to ignore the issues and shy away from the funds, I don't think we would be doing our jobs."
Commissioners were urged by one trafficway opponent to wait on the 31st Street project until a route for the final leg of the trafficway is determined. Federal regulators are reviewing a trafficway route through the Baker Wetlands, which are just south of 31st Street, primarily west of Haskell Avenue. Environmentalists and others have opposed that route.
"It seems like you are in a difficult position to spend much money on this project when this entire area is in extreme limbo," said Michael Caron, an opponent of plans to build the trafficway through the wetlands.
But Chuck Soules, director of public works, said he thought most of a future 31st Street route could be determined even before knowing the trafficway alignment. He said the biggest difference the trafficway project would have on a 31st Street project is determining whether the extension needed to be two lanes or four lanes.
The $800,000 in federal funding - which was announced by Congressman Dennis Moore's office in 2006 - won't be enough to build the 31st Street project. City leaders think the one-mile extension could cost $4 million to $5 million.
But City Manager David Corliss said it would be wise for the city to begin looking at possible routes for an extension and securing road right of way while the area is still largely undeveloped.
Corliss said the city likely would need to seek funding help from federal, state or county leaders to build the road.
Copyright 2018 The Lawrence Journal-World. All rights reserved. This material may not be published, broadcast, rewritten or redistributed. We strive to uphold our values for every story published.