Chat about road construction, roundabouts with Traffic Engineer David Woosley
October 3, 2006
This chat has already taken place. Read the transcript below.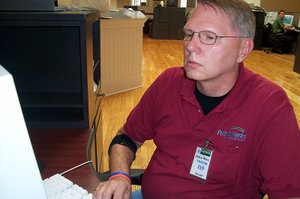 David Woosley has long served as the city's traffic engineer. He can talk about roundabouts, the reconstruction of Kasold Drive or any other topic affecting your daily commute across town.
Moderator:
Good afternoon. This is Dennis Anderson, managing editor of the Lawrence Journal-World. I will be moderating today's online chat with city Traffic Engineer David Woosley. Welcome, David.
David E. Woosley:
Thanks Dennis, it's a pleasure to be here.
Why are there so few right turn lanes in Lawrence, especially at major intersections (Clinton/Kasold, 23rd/Louisiana, Bob Billings/Kasold, Bob Billings/Iowa, etc.) ? I have to believe this would drastically reduce traffic as drivers turning right would not extend traffic lines at red lights, forcing people to wait through several red lights before getting through.
David E. Woosley:
At the time many of these areas were developed, right turn lanes were not all that common. To go back and retrofit can be very expensive and sometimes impossible with existing development. At new intersections and where reconstruction is done we try to provide these lanes when feasible.
Moderator:
We have several questions about roundabouts. Here goes.
JTS:
Are future roundabouts going to be larger than the current ones, for instance the intersection of Harvard & Monterway Way? Over the summer I spent a great deal of time in England where the roundabouts seemed to be larger, although I did not stop to measure them.
David E. Woosley:
Harvard & Monterey Way was the city's first roundbout. Since it was a retrofit, there were constraints on the size such as the park on the southeast corner and existing development on the west and northeast corners. The newer roundabouts are quite a bit larger in new developments because we can get the right-of-way needed. Each location is designed independently depending on expected future traffic volumes, the terrain, etc.
What's the point of the roundabouts? They are made way to small (example on Harvard between Monterey and Wakarusa). Not only have I watched full sized pickup trucks bounding over the curbs, but trash trucks and fire trucks. On top of that, no one yields at those roundabouts. Now, the centers of those roundabouts have evergreen trees and other vegetation that hinders your view of the cars approaching or are in the ridiculously small roundabouts.
Our neighborhood streest are so narrow, that allowing cars to park on the street, create a hugh hazzard to drivers and pedestrians alike. If you want to control the flow of traffic, quite trying to bottleneck the streets. Have more police patrols on streets that have speeding problems, not speed humps or roundabouts. Make roads like 6th, 9th, 15th, 23rd, Iowa, Kasold, and Wakarusa large boulavards with 2 lanes each for flowing traffic in each direction and actual turn lanes for left and right hand turns NOT a "sucide" lane in the middle. Face it, Lawrence is a big city now. Trying to keep it small is going to keep pissing off the residents and more will keep moving out of Lawrence.
David E. Woosley:
The purpose of roundabouts is to manage traffic at an intersecton. Studies by the Insurance Institute for Highway Safety and Kansas State University have shown that they are much safer than conventional intersections and in many cases can handle more traffic than a traffic signal.
Does money for roundabouts come from the same budget as sidewalk repair or other city road improvements? And how much does it cost to maintain the landscaping on roundabouts?
David E. Woosley:
The roundabouts that the city has constructed have mainly been financed as a Capital Improvements Project which is not part of sidewalk or street maintenance funds; some have been constructed at developer expense in newly developing areas. The landscaping is maintained by the Parks & Recreation Department; I can't answer what that costs.
Has the general public's reaction to the roundabouts installed in Lawrence been positive enough to warrant more?
David E. Woosley:
Roundabouts, just like most other things that are new are controversial. We haven't done a scientific study in Lawrence, but most communities that have, have found that a majority of the public likes them after they have been in place for a while and they get used to them. One of the advantages of roundabouts is their safety aspect when compared to traffic signals, and that alone makes them something to be considered.
The intersection at Kasold and Harvard is extremely difficult to navigate. It's a four-way stop that could be better served with a roundabout instead of its current mess. Any chance in seeing a roundabout at this intersection?
David E. Woosley:
There is always a chance; however, since that intersection is fully developed on all four corners, it would be very difficult to retrofit without substantial property acquisition, possibly even requiring the removal of a house.
Moderator:
One last roundabout question. I promise.
Is it true that we will have a roundabout at Kasold and Tillerman, and another one just north at Kasold and Grand Vista? If so, how in the world is this going to work? These are not 4-way intersections.
David E. Woosley:
Yes, there will be roundabouts on Kasold at Tillerman and at Grand Vista. An intersection does not have to have four legs for a roundabout to work. One of the first ones in town was at 24th Place and Crossgate which is a "T" intersection. The one at 28th & O'Connell is also a "T" right now until the property to the east is developed, as well as the one on Overland at Congressional. A roundabout can operate well with 3, 4, 5 or even sometimes 6 legs.
It is rather obvious that completion of the SLT is many years away...at best. Why not spend some bucks and improve 31st with turn lanes and traffic signals (NOT roundabouts). Traffic is horrible at the Louisanna and Haskell intersections.
David E. Woosley:
The city and the county have has some discussions about what improvements might be possible; however, any substantial improvements would be expensive and both levels of government try to make sure that investments of that type will be useful for their estimated life. Otherwise, the public's money would not be well spent.
Why does Lawrence insist on using sand in the winter time to remove ice? It is too dangerous and ice-removing salt would be a much safer alternative. When the sand is layed out, it does not melt the ice and the sand is left to create a much bigger slip hazard. Salt may be more costly, but isn't it worth it for safer driving?
David E. Woosley:
Snow and ice control and removal is performed by the Street Maintenance Division, so I am unable to answer that question. Sorry.
How can you reduce the risks with the 'suicide lane' on 23rd street ('suicide lane' is the middle turning lane)? Would you consider restricting left turns on and off 23rd?
David E. Woosley:
Some of the blocks along 23rd Street have some of the highest number of crashes annually. However, it would be very difficult to restrict left-turns because of the number of driveways along 23rd Street, without construction of a barrier median that would prohibit them at all times. Unfortunately, this would cause access problems for many of the businesses along that stretch of roadway which were developed under very different traffic conditions and would be very difficult to retrofit.
Is the rebuilt section of Kasold Drive narrower than the previous road it replaces?
David E. Woosley:
That question would best be answered by the public works director, but I believe that the traffic lanes are slightly narrower and the median is narrower in some areas in order to provide off-street facilites for pedestrians and bicylists.
Who do you call if your road needs repaired?
David E. Woosley:
The Street Maintenance Division of the Public Works Department is responsible for road repairs.
How long will the bridge over the Kansas Turnpike on Kasold Drive, north of Peterson Road, be closed?
David E. Woosley:
My division is not involved with that project; again, I would refer you to the public works director.
What roads in town have synchronized signals?
David E. Woosley:
6th Street, 23rd Street, Clinton Parkway, and Iowa Street are coordinated during most times of the day; however, the timing is based on historial traffic counts, not real-time, since we do not currently have that capability.
What types of Intelligent Transportation Systems does lawrence use, or what do you think we could use?
the new intersection at Kasold and Peterson has two lanes going North, yet it quickly reduces to one lane past the new light. Are you concerned about two cars (going 40mph) having to merge that quickly?
David E. Woosley:
All of our traffic signals are currently equipped with Emergency Vehicle Preemption which changes the signal to green for fire trucks and ambulances. Other systems that would be helpful would be wired or radio communications between the signals and our main office and cameras where major intersections could be viewed from the office.
David E. Woosley:
Since the intersection project finished before the roadway project north of the intersection is ready to start, and there is not sufficient area to shutdown one of the lanes at the prevailing speed of traffic, we plan on keeing the signal flashing red in all four directions, in reality a four-way stop, until the north leg of the intersection is closed for construction.
Does the fact that everyone in town seems to be a traffic engineer ever make your job difficult?
David E. Woosley:
Very few things seem to be easy anymore, but it never gets boring; that is one of the things that attracts me to this professtion
Moderator:
Well, we are out of time. I want to thank all of you who asked questions. We had a lot of them and couldn't get them all answered. Sorry, maybe David can come back another time. I also want to thanks David for his time and answers.
David E. Woosley:
Thanks again Dennis for inviting me to participate; and I want to thank everyone that took the time to submit a question. Anyone with questions in the future about traffic engineering in Lawrence can contact us at traffic@ci.lawrence.ks.us.