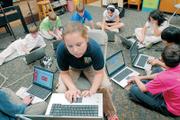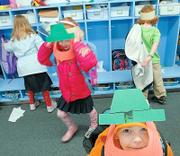 St. John Catholic School is celebrating its 50th anniversary this year, but that doesn't mean the school is taking much time to look back.
Instead, teachers and administrators are busy creating a preschool, adding a Spanish program and beefing up their technology offerings.
Still, it isn't the cutting-edge advancements that bring parents through the door initially.
"They come here for the faith," said Pat Newton, the school's principal. "Even if they aren't Catholic, they like that we teach the basic doctrines of goodness and kindness."
St. John Catholic School is like most private schools in Lawrence - enrollment is up, and expansion is in progress.
The local findings mirror national statistics for private schools. The National Center for Education Statistics says 11.5 percent of school-age children in the United States are enrolled in private schools.
The center estimates private school enrollment rose 18 percent from 1988 to 2001, and the center expects it to increase an additional 7 percent before 2013.
For private schools in Lawrence, that means a lot of projects to plan for the future.
Catholic split
At St. John, 1208 Ky., that means the addition of a preschool this fall. It also means adding a Spanish-language program that will affect many aspects of school life.
This is the first year for St. John to be under a separate governing board from the school at Corpus Christi Catholic Church, 6001 Bob Billings Parkway. Enrollment at St. John is at 240, and Newton expects it to increase in future years.
"For us, it's been wonderful," Newton said of the governing-board split. "I can put all my efforts and time into this building."
It's been a smooth transition at Corpus Christi, too, said first-year principal Becky Wright. Though Corpus Christi and St. John are separate now, Wright said she could imagine partnerships developing down the road.
"I can see our relationship growing as the years go on," Wright said. "We'll see how we can support each other."
Corpus Christi Catholic School, which, like St. John, currently offers grades K-6, is preparing to add seventh grade in the 2008-2009 school year. Eighth grade will be added after that.
Planned expansion at the school/church campus will accommodate that growth. Current enrollment is 220.
"The next few years are going to be phenomenal," Wright said. "It's going to be growth beyond belief."
The school also is offering more extracurricular activities. Band was started this year, and more after-school clubs are being added each year.
Looking to build
Other private schools also are experiencing expansion.
Veritas Christian School, 256 N. Mich., is looking for land to build a new school. A building committee currently is looking at space needs. One option is to build near the First Church of the Nazarene, 1470 N. 1000 Road, where a football field has been constructed.
Enrollment currently is 156.
"I'm wary to say 'If you build it, they will come,'" said administrator Jeff Barclay. "But we're just cramped. We don't even have closet space."
Barclay, whose school is K-12, said he thought parents were typically drawn through the school's doors because of a "worldview issue."
"They're looking for a Christian private school," Barclay said. "It is moving toward the biblical worldview rather than moving away from something" in public schools.
Barclay said the Association of Christian Schools International, to which his school belongs, estimates a city the size of Lawrence could support as many as 350 students at the school.
"It's an exciting time," he said. "I think it's great parents have these choices."
Future growth
Bishop Seabury Academy, 4120 Clinton Parkway, also is looking for an expansion.
Chris Carter, head of the school, said officials are raising money for a $1 million new building. It will house space for classes, including rooms for visual and performing arts.
Groundbreaking should be this fall, Carter said, with the building ready for the 2008-2009 school year.
"We could make excellent programs a whole lot better if they had better space," said Carter, who has announced plans to resign after the 2007-2008 school year. "We're using all the space we have almost every period of the day. You can't grow and you can't add programs if you have no space to do it."
Carter said he thought private-school growth in Lawrence would continue in future years.
"Lawrence has both a tradition of strong public schools," he said, "and an understanding that nonpublic schools can do a lot of things for the public good as well."
Copyright 2017 The Lawrence Journal-World. All rights reserved. This material may not be published, broadcast, rewritten or redistributed. We strive to uphold our values for every story published.