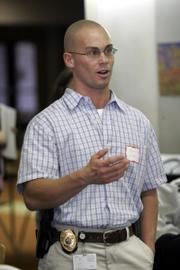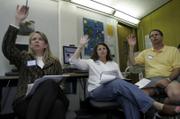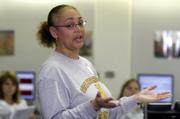 It's a feeling that hits many parents of junior high students - a loss of control that comes from no longer knowing everything that's going on in their child's life.
"In junior high school, your kids stop communicating with you," said Diane Guthrie, who has two children, a boy and a girl, at West Junior High School. "And in addition to that, the parents aren't communicating either."
Guthrie is working to help junior high parents get to know one another better and learn how to keep better track of their seventh-, eighth- and ninth-graders through an expansion of the Lawrence Parent Network.
The network was originally set up two years ago for parents of Lawrence and Free State high school students to keep in touch and learn parenting strategies.
The network now has about 200 families and includes parents of students at Lawrence's four junior highs and at Bishop Seabury Academy and Veritas Christian High School.
"We have a coordinator at each school to get information out to parents," Guthrie said.
The parents network has sponsored a series of meetings where parents can talk to experts about a variety of topics involving junior high students.
Diane Ash, prevention specialist for the school district, helps provide programs for the parents at the junior highs.
For example, the first one, which took place in January, dealt with "Values versus Preferences," which encouraged parents to find reasons for putting limits on their children.
For example, if a boy wants to wear long hair, rather than tell him he can't, the parents should tell him that the family values his looking neat and clean. And if he prefers long hair, he will have to make sure it meets the family's values of looking neat and clean, Ash said.
"It's choosing your battles wisely," she said.
Other programs have covered teen brain development and Internet safety for students.
On Thursday, another program, called "Summer Safety," will feature a panel of high school students who will tell parents, especially parents of ninth-graders, what they can expect high school students to experience during the summer.
Ash said the program would inform parents of what kinds of pressures teens face in the summer, with less adult supervision and greater accessibility to illegal substances.
"One of the whole reasons why this network was formed was because you lose communication with other parents," Guthrie said.
Parents see one another more when their children are in elementary school because there is more opportunity for volunteering, she said.
Technology also has changed parenting of junior high students, she said.
"I'm not just talking about the Internet. I'm talking about all the kids having cell phones," she said.
Ironically, because parents communicate directly with their own child through cell phones, parents rarely talk to each other face to face, Guthrie said.
"The convenience of the cell phone has created less communication between parents," she said.
Also young teens, who are often secretive anyway, can more easily communicate using new technology their parents can't freely access, such as through their cell phones or social networking Web sites MySpace.com or Facebook.com.
"It's just little things that can become big problems," Guthrie said.
Copyright 2018 The Lawrence Journal-World. All rights reserved. This material may not be published, broadcast, rewritten or redistributed. We strive to uphold our values for every story published.