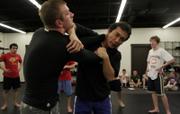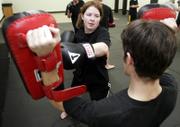 It was in a Lawrence garage that Darryl Clark met his martial arts match and found the inspiration for a new form in fighting.
The idea moved out of the garage into a ballroom dance facility on Massachusetts Street, and as word traveled, Clark's Integrated Martial Science found a permanent home at 19th Street and Haskell Avenue.
"Integrated Martial Science is a one-stop shop for everything that works in fighting," Clark said. "Rather than having one supposed master teaching everything, we have multiple instructors that teach their own specialized field."
When he found talented martial artists whose only outlet was garage sparring matches, Clark discovered a need in Lawrence for new innovation in martial arts training. He took some 31 years of martial arts background, combined it with an extensive science education, which includes a master's degree, a doctorate and postdoctoral training, and began developing integrated martial science. With the help of other local martial arts aficionados, his method was brought to life.
The idea is that as each student's body and physical ability differ, so, too, will the style of fighting that works best for that student. Students at Integrated Martial Science receive training from instructors skilled in Muay Thai kickboxing, Brazilian Jiu-Jitsu, mixed martial arts and essential self-defense. Students then combine skills from each of these areas to find a style that works best.
"Like good science, if it doesn't work, we don't keep it. If it works, we keep it," Clark said. "Rather than have the student conform to the style, the student is able to conform the style to him or herself."
Clark's students have won four out of four matches in mixed martial arts competition within the first six months of his school's inception. Despite the relatively new style his students were using and their clear underdog status, according to Clark, their passion and dedication enabled success.
"These guys that win, they've just grown up wanting to do this forever," Clark said. "The first chance they got, they just couldn't lose."
Clark also takes pride in the life changes he's seen his students make after beginning to train at his school.
"I've seen multiple people stop smoking, quit drugs, lose weight and turn their lives around," Clark said. "The physical body can't maintain destructive habits and train at the same time."
Trent Tiemeyer, bouncer at Abe and Jake's and The Granada, and integrated martial science student, said the training he received helped him drop 50 pounds.
"I used to be done after one round. Now I can go and go and go," Tiemeyer said.
Sung Byun, Kansas University student and integrated martial science student, said he has seen physical results as well, but it's the mental aspects that have really made a difference.
"It's a confidence and self-esteem booster. A lot of it is psychological," Byun said. "If you can get in an attacker's head, you ruin their spirit."
There are currently 30 students enrolled in the school, most of which Clark said could be described as "testosterone-laiden, college-aged, young men," but he said he hopes to broaden that spectrum. He also said that a background in martial arts is not a prerequisite. Most students come to Clark with a genuine interest in the martial arts and a desire to better themselves, and his students say the training is unparalleled in Lawrence.
"Usually you'd have to go to Kansas City or another big city to get not only this kind of instruction, but this level of instruction," Byun said. "The best fighter is the overall fighter. Well-roundedness is such a plus."
Copyright 2017 The Lawrence Journal-World. All rights reserved. This material may not be published, broadcast, rewritten or redistributed. We strive to uphold our values for every story published.