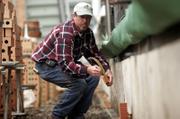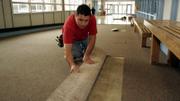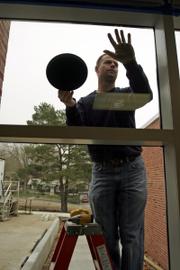 When classes begin next fall in most of Lawrence's secondary schools, there will be one familiar element missing from the normal buzz of the school day: the sound of construction.
Some $54 million in construction projects have been going on this year at six city schools. The projects were approved by voters in 2005.
Many of the projects - which include dozens of new junior high and high school classrooms, science labs, gymnasiums and other facilities - were finished or nearing completion at the end of March, according to Tom Bracciano, division director of facilities and operations planning.
And progress continued on the biggest project, the $31.9 million new South Junior High School building, going up just northeast of the school at 2734 La.
"South is trucking right along," Bracciano said.
The new 114,000-square-foot building features 51 classrooms, a library/media center, competition and auxiliary gymnasiums, and an auditorium. The work at South and some new office space at Broken Arrow School, which is adjacent to South, should be finished for the start of the 2007-2008 school year.
"If you go out there now, you'll see they're putting on some of the exterior at South," Bracciano said. "The footings are in for the new office area on the front at Broken Arrow."
However, construction sounds won't end with the opening of the school - crews will begin razing the existing building in August, Bracciano said.
Over the summer, crews will remove the asbestos, he said. "All the ceilings and the piping and such has to be removed prior to demolition. That will take a couple of months."
Once asbestos are removed, work will begin on razing the school and building a parking lot in its footprint, he said.
Work was nearly complete at the end of March on some of the other junior high construction projects, Bracciano said.
¢ At West Junior High School, where $5.7 million in construction is under way, flooring was being laid in many of the 13 new classrooms, and the floor of a new auxiliary gymnasium was almost finished. Tennis courts still must be poured.
¢ At Central Junior High School, where $4 million was spent on six classrooms and a gym addition, most of the work was done except for a parking lot on the school's north side.
¢ Southwest Junior High School's $6.9 million in projects, which included adding classrooms and expanding the cafeteria, are mostly finished, and students have been using them since early February. An auxiliary gym still was being finished.
¢ Free State High School's $1.3 million industrial technology area was finished in early March. It will allow Free State students to take classes in woods, auto tech and welding.
¢ Lawrence High School's $3.6 million in projects includes renovations to the entrance to the east gymnasium and 1950s locker rooms, and the addition of three science rooms with labs. Work is continuing on that project, Bracciano said.
Lawrence's school board also approved more than $1 million worth of renovation projections at schools that will take place over the summer. About $368,000 will go toward creating electronic key access systems in 13 district buildings, so they can be controlled from central locations.
The school district also is trying to obtain state confirmation about using performance contracts to help fund about $10 million in projects, Bracciano said.
Copyright 2018 The Lawrence Journal-World. All rights reserved. This material may not be published, broadcast, rewritten or redistributed. We strive to uphold our values for every story published.