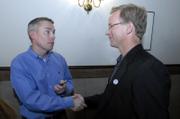 Talk of jobs has landed Mike Dever and Rob Chestnut new jobs on the Lawrence City Commission.
The top two vote-winners in the April 3 elections said they were convinced their messages about the need for an increased emphasis on economic development played a major role in their election.
"I think voters understood we really wanted to improve the job outlook for the community," said Dever, who garnered 7,349 votes in the election.
Dever, the owner of an environmental consulting firm, was the top vote-winner in the election. Rob Chestnut, the chief financial officer of Allen Press, finished second with 6,797 votes. Commissioner Boog Highberger, an attorney for the Kansas Department of Health and Environment, won a second term on the commission by finishing in third place with 6,191 votes.
Commissioner David Schauner was not successful in his re-election bid. He finished fourth. Commissioner Mike Rundle did not seek re-election on the five-member commission.
Vote totals showed that Dever and Chestnut did particularly well in the western portion of the city. Chestnut said while walking those neighborhoods, he found residents were especially concerned about the city's economy.
"There are a lot of commuters in those neighborhoods," said Chestnut, a Lawrence native. "They are concerned about a lack of jobs (in Lawrence)."
Job creation efforts became a major issue in the campaign as Dever and second-place finisher Rob Chestnut frequently pointed to statistics that Lawrence had lost jobs in the past five years. Unemployment rates in Lawrence have been pretty steady or declining during the time period, but candidates suggested that was a reflection of more commuters living in Lawrence rather than more jobs being located in the city. Statistics from the Kansas Department of Labor showed that for a five-year period ending in 2006 that Douglas County lost about 900 jobs.
"Our job numbers in this community speak loudly," Dever said. "They show we can really do better."
Both Dever and Chestnut said that they wanted the City Commission to have meetings with the Chamber of Commerce and Douglas County commissioners to discuss the community's economic development strategy. Dever said each group needs to have an open discussion about what each partner can do better. He also said he would like the Lawrence-Douglas County Economic Development Board to become more prominent and meet more often.
Once everyone is on the same page, Dever said, there should be clear goals and an expectation that they'll be met.
"I'm big on demanding accountability," Dever said.
Chestnut said he also wanted to meet with the economic development partners. He said he would stress the need for the community to become more proactive in spreading its message to potential employers.
"It will mean reaching out to a lot more people outside of the community," Chestnut said. "It will be about putting in a whole lot of effort. It will be a lot like campaigning."
The two incumbent commissioners who were not up for re-election - Commissioner Mike Amyx and Mayor Sue Hack - are on board with an agenda that has a heavy emphasis on jobs.
Hack - who works part-time for the Chamber of Commerce as its director of Leadership Lawrence - said the areas of emphasis need to be on creating more areas suitable for business park development, and improving Lawrence's image as a good place to do business.
"I know some people do not believe that we have a reputation problem, but I know we're not looked upon very favorably by some decision makers who could bring jobs to this community," Hack said.
She said the community had a reputation of making too many changes to projects late in the approval process. Consequently, she said the approval process often is viewed as taking too long.
Efforts undertaken by the current commission to merge the Neighborhood Resources Department with the Planning Department should help streamline the development review process, she said. But Hack said it would be important to convince Lawrence residents that a speedier process doesn't mean the community is lowering its standards.
"I want to assure people that there is nothing wrong with high standards," Hack said. "We're not going to pave over Lawrence, like I've heard some people say. What we're going to do is do everything we can within our own high standards to eliminate this reputation that we have with some businesses."
Highberger also has said job creation is important to him, and has said the community has great potential in the biosciences area. But he also said his victory in the election shows that a significant number of voters have appreciated economic development policy changes, such as requiring a living wage for companies receiving a tax abatement, that he pushed for.
Copyright 2018 The Lawrence Journal-World. All rights reserved. This material may not be published, broadcast, rewritten or redistributed. We strive to uphold our values for every story published.