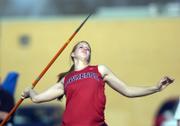 Stopwatches in their hands, Kevin Logan, Kelly Renfro, Kristina Taylor and Jennifer Taylor relaxed while recording times during Lawrence High's home track and field quad Wednesday afternoon.
Despite resting some of their most talented athletes in preparation for Friday's Kansas Relays, the Lions finished second among boys and girls with 101 and 58 points, respectively. Blue Valley West's boys and girls took first in a field that also included Topeka High and Topeka West.
"We had a pretty good meet," LHS track and field coach Jack Hood said. "We worked hard. You obviously go into a meet without some of your best kids, you can't expect them to dominate anybody."
Wednesday's meet, however, still featured noteworthy performances. The boys' 4x100-meter relay of Malcolm Brown, Arsenio Criss, Dave Elias and James Taylor set at a personal record with a 45.06-second run.
"We were just working on better handoffs," said Criss, a senior who ran the first leg.
The girls' 4x100 relay team of Emily Bracciano, Jessica Garcia, Abby Jones and Kim McDonald also credited improved handoffs as they shaved two seconds off their previous best mark.
"I'm stoked," Garcia, a junior, said. "That's the first race we've ever raced with all four of us."
Jones replaced Kate Melton for the second leg, allowing Melton to concentrate on her shot put and discus. Hood, a former throwing specialist, said a thrower needed to find a focused groove, equating it to a golf swing.
"The timing of the 4x100 was messing with her rhythm," Hood said. "You want everything to stay the same, and if something throws off rhythm in the middle, it's hard to get that focus back."
Two field participants stood out. Junior Andrew Miller bested his previous high in the javelin by more than 20 feet, and Chebon Dawes enjoyed one of his best days throwing the discus.
"He's got a lot of work to do, but he's got a chance to be a really good thrower," Hood said. "The upside with him is frightening almost."
Brown also displayed his potential. In addition to his success on the relay team, he set a personal record in the triple jump with a 42 feet, 4 1â4-inch leap. That number is more impressive, considering a cold and flu hampered him earlier in the week.
"I did great for not practicing the whole week," he said.
Brown skipped the long jump, saving himself in that event for the Kansas Relays. An injured thumb forced him to serve as a spectator last year.
"It's my first year doing it," he said. "And I'm excited."
Hood expressed excitement about the sacrifices of his athletes during the quad. Several of his runners participated in different events than usual to compensate for those resting up for the Kansas Relays.
"The best thing out of this is we had a lot of kids that ran their normal events," Hood said, "but then wanted to try something else to help the team. That's pretty cool."
Copyright 2018 The Lawrence Journal-World. All rights reserved. This material may not be published, broadcast, rewritten or redistributed. We strive to uphold our values for every story published.