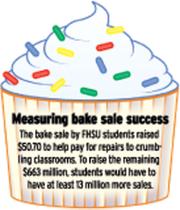 Topeka — As state leaders fight over how to pay for $663 million in repairs to crumbling college classrooms, some students tried selling cookies and candy.
"We sold cookies to restore our classrooms, brownies to fix our buildings and candies to improve our campus," Drew Thomas, Fort Hays State University Student Government Association president, said Tuesday.
The sale cleared $50.70, which students will donate to the Kansas Board of Regents.
Thomas noted at that rate it would take 13,076,923 more bake sales to repair the university buildings.
"The continued inaction on the part of state leaders has made our efforts necessary to this $663 million problem," Thomas said. "We only hope that one day our state universities will be able to fix their buildings without need for our bake sales."
Gov. Kathleen Sebelius on Tuesday asked the Legislature for $62.7 million to fix the highest priority projects at Kansas University and the five other regents institutions.
To kick off the budget sessions, Sebelius proposed $203 million in budget amendments, including funds for school repairs, for the Legislature to consider. The Legislature returns to work April 25.
Sebelius' earlier plan included increasing Kansas Turnpike tolls. Other proposals made by legislators, such as increasing taxes, tuition and athletic ticket prices, failed.
Under Sebelius' new plan, $15 million would go toward paying off debt on previous university projects, thus freeing funds for maintenance.
The remaining $47.7 million would be a one-time appropriation to fund the seven highest priority projects, including repairs to utility tunnels at KU.
Reginald Robinson, regents president and chief executive officer, thanked Sebelius for the budget amendment.
"This is the perfect opportunity, through a one-time appropriation, to take a significant and meaningful step toward solving this growing problem," Robinson said.
Copyright 2018 The Lawrence Journal-World. All rights reserved. This material may not be published, broadcast, rewritten or redistributed. We strive to uphold our values for every story published.