-->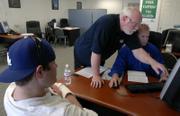 Emancipation Day is over, and, consequently, so is your freedom from tax day.
Both federal and state tax returns need to be sent - either through the U.S. Postal Service or via e-mail - before midnight today in order to avoid penalties and fees.
Taxpayers were given a two-day reprieve this year because the traditional deadline - April 15 - fell on a Sunday. And Monday was celebrated as Emancipation Day.
What day, you say?
Emancipation Day - the day that Abraham Lincoln freed slaves in Washington, D.C. - is not a national holiday but is a local holiday in the nation's capital. But a federal law enacted decades ago requires the IRS to take into account Washington, D.C., holidays that affect other government offices, according to the IRS Web site.
Lawrence's downtown post office, 645 Vt., will be open until 7 tonight for late filers. This marks the second year in a row that the Lawrence post office has dropped its tradition of staying open until midnight on tax day.
For Lawrence residents waiting until the last minute to mail returns, their best bet may be to drive to the post office in Mission at 6029 Broadmoor St. Mail from the outside dropbox there will be collected at midnight, but last-minute filers should make sure they have the postage already on their return because the post office itself won't be open at that time.
For people who can't get the return done on time, today also is the day to file an extension. An extension provides an extra six months to file returns. It does not give people an extra six months to pay taxes without penalties or interest.
That means people who file an extension should estimate the tax they owe and send it with the extension form. That should reduce the amount of taxes and penalties ultimately due.
Copyright 2018 The Lawrence Journal-World. All rights reserved. This material may not be published, broadcast, rewritten or redistributed. We strive to uphold our values for every story published.