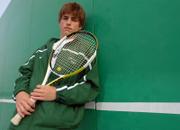 Before the boys tennis season, Blaine Kaehr was simply competing for a spot in the lineup.
Nearly three weeks into the season, Kaehr already has leaped into the No. 3 singles spot for the Free State High tennis team.
The sophomore carries a senior-type demeanor and confidence about him that would suggest he's a veteran. Essentially, coach Jon Renberger had no choice but to elevate him in the lineup.
Kaehr is a combined 10-0 (7-0 singles, 3-0 doubles) this season. He's the only undefeated Firebird on the varsity roster.
Three weeks ago, Kaehr was an up-and-coming name in the prep tennis ranks. Now, he's trying to protect an undefeated streak. With that comes Sunflower League opponents looking to snap it any way they can.
Take Shawnee Mission South's Alex Brainard, for instance. Kaehr and Brainard faced off in an April 5 singles match at Free State. According to Kaehr, Brainard called one of his shots good that wasn't. Brainard also called one of Kaehr's shots out that Kaehr thought was good. Kaehr let it go and kept playing.
In Kaehr's mind, it represented blatant dishonesty. It made him that much more determined. Make no mistake - at the end of the match, there wasn't any debating who emerged victorious. Kaehr blanked Brainard, 8-0.
What did you do early in the season to make coach Renberger notice your potential?
I train really hard in the offseason. Then, I played dominantly in the challenge matches after practice and climbed my way up the ladder. Patrick Spurgeon, the No. 4 player, challenged me earlier in the season. He actually beat me the first time, but we played again and I beat him, 8-1.
Did you expect to have this kind of start to your season?
Actually, I didn't. It's been tough. I've played some good opponents, but the hard work is paying off right now. I played about three days a week inside, plus tournaments, in the winter. I did conditioning and weights. I play a lot in the summer as well. Then in the fall I have soccer, but I still squeeze tennis in.
You've participated in some United States Tennis Association events. How did you do in those tournaments?
I played in two last summer and one in the winter. I was a runner-up at one of them this winter. They're in Kansas City. This summer, I hope to be going to Nebraska.
You're recovering from a bruised right knee. What happened?
I bruised my knee in a quad here during my first match. It hurt for a while and I was pretty sore, but I think I'm 100 percent now. There was a bad wind and I misjudged the ball and I just fell on it. Those are the kinds of minor injuries that you just play through.
Junior Charlie Moffet and senior Jack Hull are Free State's two top-ranked players. After they leave, what will the future look like?
Well, (West Junior High freshman) Michael Swank is coming up, too, and he's a good player. Michael and I could be the future.
How long have you been playing tennis?
Actually, only about a year and a half. After I took it up, I've worked hard and trained hard. I just went to a clinic last year. Michael helped me out a lot. Then I went to First Serve to start and kept improving from there. Working hard and playing a lot is going to make you better.
What are your goals when talking about the state tournament this season?
I hope to qualify for state, but if I don't, then I won't be too disappointed because I'm young and would come back next year and hopefully qualify. It'd be great to qualify this year. I think if I play on top of my game, I'll have a decent chance.
What's the primary strength to your game?
A big forehand. You have to bend your knees, keep your eye on the ball and hit it while it's shoulder-high. You don't want to let it drop too low or else you'll put it in the net. Then, you just put it away.
What are you looking to improve upon?
My backhand is always looking for improvement. And hopefully, I'll start hitting a kick-serve by the end of the summer. I have a slice right now. A slice slices outside, but a kick has a lot of top spin. When it hits the ground, it kicks up in the air. You want to vary it up so you keep your opponents on their toes. I want to get my kick a little better before I start using it.
Copyright 2018 The Lawrence Journal-World. All rights reserved. This material may not be published, broadcast, rewritten or redistributed. We strive to uphold our values for every story published.