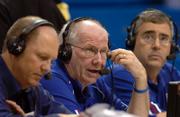 Kansas Athletics Inc. is extending its marketing relationships for a longer period, for more money and including another media company.
The department, which manages Kansas University's 18 official intercollegiate sports programs, announced Monday that it had signed a 10-year deal worth $65 million with Host Communications Inc., in collaboration with ESPN Regional.
The pact replaces the seven-year, $40 million deal that KU had worked out with ESPN Regional, an arrangement that had been scheduled to expire in 2012. The new deal aligns the university with the same media operation that manages marketing for the University of Kentucky and other prominent schools.
Host will sell, produce and distribute radio broadcasts for Kansas Athletics, plus have the right to sell, produce and distribute coaches' shows, TV game broadcasts, game-day programs, hospitality opportunities, venue signage, corporate sponsorship and Internet opportunities.
At KU, Host has worked out a "strategic partnership" so that ESPN Regional can "remain active" in KU Athletics, the department said, and continue to manage television production and distribution.
"ESPN is recognized as a leader in college sports television, and Host is a pioneer in collegiate marketing, recognized as one of this country's top sports marketing agencies," said Lew Perkins, athletics director, in a statement. "Together, they give Kansas Athletics a great one-two punch that will result in high-quality programming, innovative game-day promotions, effective sponsorships and creative new opportunities for fans to enjoy the Jayhawks."
The previous deal with ESPN Regional helped boost department revenues and exposure for sponsors. Beyond that agreement was ESPN Regional's financing for a new videoboard and sound system at Allen Fieldhouse, designed to enhance marketing opportunities and add to fans' enjoyment of games.
Angela Haar, who had been instrumental in landing the ESPN Regional deal while working as the company's general manager at KU since 2003, left the university in January to become general manager for Host's operations at Kentucky.
Copyright 2018 The Lawrence Journal-World. All rights reserved. This material may not be published, broadcast, rewritten or redistributed. We strive to uphold our values for every story published.