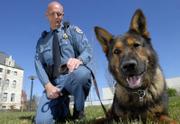 Gero's days of playing "hide-and-seek" with drug dealers are over.
The 7-year-old German shepherd retired Monday after a four-year career as a drug search dog for the Douglas County Sheriff's Office.
"He's going to live at my house and live the good life," said Sgt. Ed Swanson, the dog's handler.
Swanson recently was promoted and is now a patrol supervisor, so if Gero had continued working as a police dog, he would have needed a new partner. That person would have had to go through a 10-week certification training process with Gero.
That process would have been stressful for Gero because he is at the age when many police dogs routinely retire, Sheriff Ken McGovern said.
Gero has been staying at Swanson's house while off duty and is already used to the family, Swanson said.
"Now it will be a different relationship, not so much as a working dog but as a family pet," Swanson said.
Before Gero could make that switch, the Douglas County Commission had to take action. Gero was considered county property and it was up to commissioners to donate him to Swanson. Commissioners readily gave their approval.
"He's been a good and loyal public servant to the people of Douglas County," Commissioner Bob Johnson said of Gero.
McGovern credited Gero with participating in hundreds of public assistance calls as well as helping with 30 arrests involving local, state and federal drug cases since the dog was purchased in 2003 by the sheriff's office.
One of the federal cases involved finding a "significant amount" of cocaine hidden behind the dashboard of a car, Swanson said.
Gero also was called on to help in searches of suspects in other incidents, such as one involving a man who had barricaded himself in a house during a police standoff. The suspect was found hiding in a bedroom after officers entered the house with Gero, Swanson said.
Gero replaced an earlier police dog, a German shepherd named Baloo that retired in 2002.
The department has one other police dog, a Holland shepherd named Levi, handled by Deputy Kelvin Bellinger. A new dog, a German shepherd named Kelo, is going through certification with handler Kyle Bulmer.
Copyright 2018 The Lawrence Journal-World. All rights reserved. This material may not be published, broadcast, rewritten or redistributed. We strive to uphold our values for every story published.