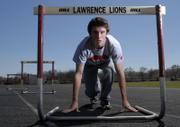 As the Lawrence High football team's kickoff unit fanned out, senior James Taylor barked the traditional war cry of British soldiers entering combat.
"For the queen!" he screamed.
Taylor's battle roar was both historically and culturally appropriate.
The senior from Exeter, England, moved to Lawrence before his final year of high school. His stepmother, Kathleen Taylor, used to live in Lawrence, and his father, Jeremy Taylor, recently retired from his job of setting up conferences for political parties, providing motivation for the intercontinental relocation.
During his lone year at LHS, Taylor served as a backup kicker and special-teamer for the football team, but he has made his mark in track and field. He has posted personal records this year in the 4x400-meter relay (3:36.45), 4x100 relay (45.1) and 300 hurdles (43.06).
LHS track and field coach Jack Hood first realized he had someone special during the Topeka West Relays, the season's first meet. The Lions were in fifth place in the 4x400 relay until Taylor took the baton for the anchor leg and spurred the team to a second-place finish.
"I knew he was going to be pretty good," Hood said.
Taylor's ascension to track stardom is impressive, considering his lack of experience in the sport. He played rugby for most of the year in England until beginning track season around April. But the rugby coach served as the track coach, and his school did not offer the high jump, pole vault or relay races and did not use hurdles or starting blocks. During the 100-meter dash, sprinters took off from a standing position.
"It was pretty basic," he said. "It was just run as fast you can."
The native Englishman's work ethic has enabled him to excel despite his lack of experience. During his first day of LHS track practice, he exercised until he puked. After last week's Topeka High relays, he ran so hard he became light-headed.
"I don't know if it's guts or pride or what or some combination of the two," Hood said. "He refuses to lose and refuses to give you less than 100 percent. Whether he's running up a hill, whether he's climbing a mountain or whether he's running a race, he goes as hard as he can every time."
Almost as seamlessly as he adjusted to a more rigorous track program, Taylor, who visited Lawrence during previous summers, has transitioned to life in a new country and at a new school. Although he misses his friends, he enjoys Lawrence's slower pace of life.
"It's more chilled out," Taylor said. "The people here are a lot nicer. The atmosphere's more relaxed."
He said he made new buddies quickly, but his British accent has served as a source of gentle ribbing.
"People sometimes make fun of how he talks," junior Emily Bracciano said, "or they call him 'England.'"
The new friends of "England" can support him this week when he races at the prominent stage of the Kansas Relays at Memorial Stadium.
"I haven't done that sort of thing before," he said. "It's going to be exciting. I'm getting sort of nervous as well."
The environs should become familiar. Although Taylor has no plans to run collegiately, he will enroll at Kansas University and likely pursue a business major. But before becoming a Jayhawk, he wants to immortalize his brief tenure as a Lion.
"State would be amazing," Taylor said. "It would be really nice to set something and have myself remembered."
Copyright 2018 The Lawrence Journal-World. All rights reserved. This material may not be published, broadcast, rewritten or redistributed. We strive to uphold our values for every story published.