Olathe — There wasn't a Kansas all-star in the MidAmerica Nazarene University gym who could stop Missouri all-star Conner Teahan on Saturday night.
Teahan, who will be an invited walk-on to the Kansas University basketball team next season, scored 24 points in Missouri's 119-91 victory against Kansas in the High School All-Star Challenge.
The only aspect of Saturday night that stood in Teahan's way was the dunk contest at halftime. The Kansas City (Mo.) Rockhurst High senior forward tried to win the judges over with an act in which he threw the ball into the air and took off his jersey to reveal an undershirt that read: "Tricia - prom?"
The idea was to catch the ball off the floor and slam it, but Teahan didn't have enough time to catch the ball and couldn't attempt the dunk. He still earned an "8" for his creative efforts and prom confirmation from Tricia in the stands.
Every aspect of Teahan's game was on display, whether it was his dunking ability or his outside shot. He had 10 field goals and four three-pointers.
Teahan will move to Lawrence on June 4 before starting classes the next day. He's not guaranteed a basketball scholarship at KU, but to Teahan, that didn't seem to matter.
"I want them to stay top-ranked, and if that means I don't have a scholarship, that's fine," Teahan said. "But I have confidence in myself, and I honestly feel that if I get to that level, I'll be able to earn a scholarship and be a player that's going to help them get to where they want to be, which is obviously the national championship."
Lawrence had several other representatives at the boys game, including Free State coach Chuck Law, who coached Kansas, Free State senior Christian Ballard and Lawrence High senior Chance Riley.
Ballard and Riley scored five points apiece.
Arguably the most intriguing matchup of the night featured Ballard against Missouri center Jarryd Cole. Ballard (football) and Cole (basketball) will play for the University of Iowa next season. Despite their pre-existing friendship, the two post players didn't exactly seem like college buddies on the court.
Photo Gallery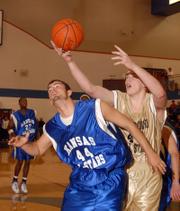 High School All-Star Challenge
"I wanted to show that a football player could bang with a basketball player," Ballard said. "I wasn't going to make it easy on him. He's probably more experienced than me in basketball. He's a pretty dominant player. Nobody could really stop him on our team."
The 6-foot-7, 240-pound Cole scored 10 points for Missouri.
Ballard ended his high school basketball career fittingly, as he threw down a two-handed dunk with about 10 seconds left for the final points of the game.
Missouri defeated Kansas, 90-79, in the girls game, which preceded the boys contest. Lawrence representatives for the girls game included Free State senior guard Lauren Kimball and Free State coach Bryan Duncan, who coached Kansas.
Kimball scored four points, grabbed four rebounds and dished two assists in the fast-paced, up-tempo game.
"We were going really fast, and I was pretty winded at some points," Kimball said. "It was fun, though, because everyone was good at running, even the posts. Everyone just wanted to get up and down the court."
Kimball didn't score in the first half, but broke her scoring drought in the second half with a Mario Chalmers-like floater in the lane after coming to a jump stop. Her second basket came off an offensive rebound and put-back fadeaway from the paint.
"It was great to just be able to sit back and have the best seat in the house from the bench," Duncan said.
Olathe East's Morgan Boyd led Kansas with 18 points, including four three-pointers. Danielle Adams, who will play for the University of Missouri next season, led the Missouri all-stars with 23.
Copyright 2018 The Lawrence Journal-World. All rights reserved. This material may not be published, broadcast, rewritten or redistributed. We strive to uphold our values for every story published.