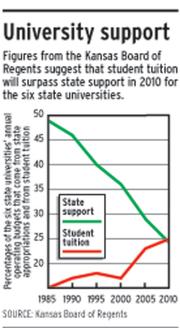 Topeka — Given the current trend, students at Kansas University today may see their children climb Mt. Oread to graduate from Douglas County University or some other nonstate-funded school.
Between 1985 and 2005, state appropriations to the six regents universities as a percentage of their operating budgets have decreased from 49 percent to 29 percent, about one percent per year. Meanwhile, tuition has increased from 15 percent to 23 percent of the schools' operating budgets.
At that rate, KU will be defunded by the state in little more than a generation.
State policymakers reject that such a thing could happen, but the recent battle over paying for $663 million in repairs at regents universities has reopened debate about the relationship between state government and the university system and vice versa - especially when the subject is money.
"It's an ages-old discussion that is sort of back on the front burner now because of demands for maintenance money," said Senate Republican Leader Derek Schmidt of Independence.
What the schools want
The six regents universities say they need $663 million to take care of needed repairs and maintenance. The schools currently divvy up approximately $15 million per year, which they say is far less than what is needed to keep up their campuses.
Over the years, this gap, in addition to the natural aging of facilities, has produced a long list of emergency repair work.
The schools, including KU, have been arguing their case for several years, but so far the Legislature hasn't acted, in part, Schmidt said, because there are no easy ways to come up with that kind of money.
"It's very expensive," Schmidt said. "That's in the same ballpark of the school finance numbers, and look how many years it took us to reach agreement on school finance."
Lawmakers battled schools and the Kansas Supreme Court for several years over adequately funding public schools before agreeing to a plan that will pump in approximately $756 million over a five-year period.
"It probably was not realistic to expect we were going to come in and resolve the regents issue in a single year," Schmidt said.
Fallback on tuition
In addition, higher education is often the odd man out when it comes to the major pieces of the state budget.
During lean budget years, higher education "always gets hit a little harder," said Julie Bell, education program director for the National Conference of State Legislatures.
Many states have court-ordered or constitutional requirements on public school funding, while cuts to health and human services are politically unappealing, she said.
"There is a built-in revenue piece in higher education: tuition," Bell said. "Higher education is always a place where you can make some cuts when you have to."
That has happened in Kansas. Resident tuition and fees at KU increased 20.8 percent in 2002-03, 17.7 percent in 2003-04, 15.5 percent in 2004-05, 14.3 percent in 2005-06, and another 13.7 percent for 2006-07.
But Bell said that many states rebounding from the lean years in 2001 and 2002 are now starting to reinvest in higher education.
"There is a great national conversation about the importance of higher education to state economic health and global competitiveness," she said.
"There are new ways of thinking about how institutions contribute back to communities."
Neufeld's tax idea
But some lawmakers, most notably House Speaker Melvin Neufeld, R-Ingalls, say it's time for communities to contribute back to the institutions.
He has backed an idea that would allow county commissioners in counties that have regents schools to increase the local sales tax by one-tenth of one cent for deferred maintenance.
He said university towns reap the benefits of having the schools, so they should contribute to their upkeep. The proposal has gained some support on both sides of the aisle as part of a broader strategy to address the problem.
But the Kansas Board of Regents opposed the idea, and it has generated a lot of political pushback in places like Lawrence and Manhattan, home of Kansas State University.
"A lot of legislators from nonregents communities are interested in that, and obviously those that represent regents communities are less than thrilled about that possibility," Senate President Steve Morris, R-Hugoton, said.
Who benefits?
The debate comes down to who benefits from KU: Lawrence or the entire state?
KU officials say the school benefits the entire state, and they can provide data that show how intertwined the school is with the everyday lives of Kansans.
There is probably not a day where Kansans don't come into contact with KU through the 141,000 alumni in the state, which include teachers, doctors, lawyers, business people and many more.
For example, KU-trained doctors practice in 85 of Kansas' 105 counties and represent 52 percent of all doctors in the state. The Kansas Law Enforcement Training Center in Hutchinson oversees professional training for all law enforcement officers in the state.
Last week, the regents tried to appeal to lawmakers' political instincts by releasing a report that showed how many state university students came from their districts and counties.
Reginald Robinson, president and chief executive officer of the regents, said he hoped the study would show lawmakers that even if they didn't have a regents school in their districts, they did have constituent students.
On April 25, the debate will resume as lawmakers return for the wrap-up session. Morris and other key lawmakers have said allocating revenue for universities' repairs will be one of the top priorities.
"It's certainly front and center when we get back to the wrap-up session," Morris said.
Copyright 2018 The Lawrence Journal-World. All rights reserved. This material may not be published, broadcast, rewritten or redistributed. We strive to uphold our values for every story published.