Photo Gallery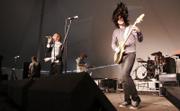 Day on the Hill
Day On The Hill organizers promised that Saturday's concert outside the Lied Center would happen rain, snow or shine.
Despite what looked like certain rain and snow in the forecast for parts of Saturday, what concertgoers got was mostly sunshine - and plenty of mud.
"It's sloppy," said Chris Steyer, with spots of mud on his jeans to prove it. "But we're saying 'screw it,' it's beautiful out here."
The threat of lousy weather and an off-and-on cold breeze kept some people away from Day On The Hill, but not all that many.
Tanner Burns, live music coordinator for the concert, said they planned for about 2,000 people to show up, but projected between 1,000 and 1,500 after finding out the forecast.
"After seeing what the weather was going to be, we knew (attendance) was going to be a little lower," Burns said.
Lionel Rodriguez, a Kansas University student who also was covered in spots of mud, said he planned on attending the event, regardless of what Mother Nature offered up to concertgoers.
"Rain or snow - it was snowing last night - I knew I was going to come," Rodriguez said, while observing blues/hip-hop band G. Love & Special Sauce. "It's something to do on a Saturday. I got to get out of my house sometimes."
Most fans seemed interested in G. Love & Special Sauce or Omaha, Neb., rock band The Faint, packing the inside of a huge white tent for both acts.
Scott Frazier, a longtime Lawrence resident, was on hand for G. Love & Special Sauce.
He had attended several Day On The Hill concerts before it went on a four-year hiatus in 2002.
"It's totally different," he said. "It used to be free."
The concert was free for Student Union Activities Preferred Student Card holders but cost $5 for other KU students and $10 for the public.
He recalled previous concerts felt more like a giant block party rather than a structured event outside the Lied Center.
"I remember people would bring out couches and set it up the night before," he said.
Burns said the crowd was mostly well-behaved at Saturday's concert, with some concertgoers using open areas of the lawn to throw Frisbees and footballs around between acts.
"Everything went off without a hitch," he said. "The bands were great and everyone was happy and we had a decent turnout, despite the weather."
Copyright 2018 The Lawrence Journal-World. All rights reserved. This material may not be published, broadcast, rewritten or redistributed. We strive to uphold our values for every story published.