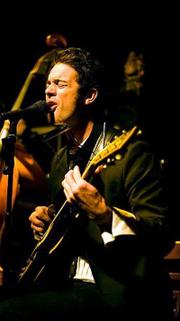 Frankly, Colin Haliburton was too young to have many memories of watching Pearl Jam in 1992 at Day on the Hill.
But he still brags about seeing the band - even if he went with his baby-sitter.
"It was awesome," he says. "I'm sure 'Evenflow' was sweet."
Haliburton is returning to the Kansas University music festival this year as a performer, not a spectator.
He's front man for The Roseline, one of four bands playing this year's event on Saturday outside the Lied Center.
Headliners The Faint and G. Love and Special Sauce join local bands The Roseline and Pomeroy in the lineup. Gates open at noon.
Last year's Day on the Hill was the first in four years. A new student fee is helping to bring in bigger names to the event.
"I think people are very glad it's back," says Tanner Burns, live music coordinator for KU's Student Union Activities. "The response we've gotten with doing larger events we're putting on has been great."
Burns is hoping Day on the Hill gains momentum.
"Hopefully, it can become a little bit larger scale, both on the sides of talent and the number of local acts we can have in the show," he says.
The Roseline takes the stage at 12:30 p.m., followed by Pomeroy at 1:15 p.m., G. Love and Special Sauce at 2:30 p.m. and The Faint at 4:30 p.m.. Tickets are $5 for KU students and $10 for the public.
Copyright 2018 The Lawrence Journal-World. All rights reserved. This material may not be published, broadcast, rewritten or redistributed. We strive to uphold our values for every story published.