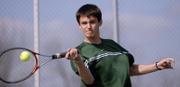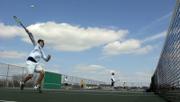 Free State High's No. 1 doubles duo of Charlie Moffet and Jack Hull ran into some trouble during Thursday's boys tennis match against Shawnee Mission West.
But it wasn't just SM West's Drew Richter and Austin Brown that were causing the problems.
Moffet and Hull simply played their way out of the win.
"We missed a couple of easy shots, and we couldn't take advantage of match point when we had it," Hull said following the 8-7 (7-5) loss. "We played so good up to that point I was kind of surprised that we couldn't pull it out. It's really disappointing. We played pretty good at the end, and things just didn't go our way."
Fortunately for the Firebirds, Moffet and Hull earned some revenge in their singles matches as Free State claimed a 7-2 team victory against the Vikings.
In the No. 1 singles, Moffet defeated Richter in convincing fashion, 8-2, and never trailed in the match.
Hull took down SM West's Matt Beemer at No. 2 singles, 8-3, but it wasn't quite as entertaining as Moffet's match.
"That was like the most boring match I've played all year," Hull said. "Basically what it came down to was I came out playing pretty good and got the lead."
Before getting the two points from the top singles matches, FSHS already had picked up the No. 2 and No. 3 doubles matches. Neither was much of a contest.
Patrick Spurgeon and Cameron Casady won at No. 2, 8-4, while Blaine Kaehr and Matt Smysor - in their first doubles match as a team - were 8-2 victors at No. 3.
"I was very impressed with them (Spurgeon and Casady) playing on Monday versus Lawrence High, so they actually moved a spot up," Free State High coach Jon Renberger said. "Blaine and Matt Smysor ... for them to win in such convincing fashion, having never played a match together before, I was very impressed with those matches."
Spurgeon and Casady also went on to win their singles matches - Spurgeon taking the No. 4 match, 8-3, and Casady winning at No. 5 singles in a tiebreaker, 8-7 (8-6).
Kaehr also won the No. 3 singles match by beating Brown, 8-2, to stay perfect for the season.
"Blaine's been playing extremely well. He hasn't lost a singles match all year," Renberger said. "He's just a fiery competitor ... and is quick around the court. He just gets on top of an opponent and smothers them. As a sophomore, getting his first experience at the varsity level, I've been very impressed."
Copyright 2018 The Lawrence Journal-World. All rights reserved. This material may not be published, broadcast, rewritten or redistributed. We strive to uphold our values for every story published.