Lawrence High's No. 1 singles player, sophomore Taylor Seratte, trailed Olathe South's Andrew Adams by five points before rallying to force an extended match.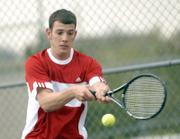 "I lost all of my nerves," said Seratte, who lost, 9-7, after trailing 7-2. "When I was down, I think I just played all out and just went for it."
The entire LHS team exhibited similar resiliency. The Lions lost three of their four doubles matches but rebounded by winning five of the eight singles matches to tie South, 6-6, during Wednesday's dual at the Lawrence Tennis Center.
"I'm a happy coach," LHS coach Steve Hudson said. "(Doubles) is something that can be coached more than singles. Singles mean you have the talent. Doubles means you have a lot of practice and coaching."
The Lions' No. 1 doubles team of Seratte and John McGrew posted the team's lone doubles win, defeating South's Adams and Kyle Freeman, 8-6. Seratte and McGrew, competing together for the first time, complemented each other's styles.
"(McGrew) dominated the net, and I'm not too comfortable at the net," Seratte said. "We work pretty well together."
Senior Anthony Frei, the Lions' No. 4 player, enjoyed his best performance of the year during singles play, Hudson said.
Exploiting his opponent's deficiencies, Frei took advantage of Freeman's weaker serve and adapted better to the strong wind gusts to post a commanding 8-2 win.
"Everything was working pretty well," Frei said.
That was not the case during the beginning of Seratte's singles match.
"I got nervous," Seratte said. "I just kept hitting it right back to him."
The demonstrative sophomore often hung his head, expressing his exasperation after errant shots. During a break in the match, he declared, "I suck." Hudson has emphasized to Seratte that he must harness his emotions.
"It covers up my nerves. I don't feel my gut tingling when I play angry," Seratte said." I get down on myself a little too much, though. I probably need to work on that."
The entire LHS team worked out of the early deficit. In addition to Frei, the Lions' No. 5, 6, 7 and 8 players all won during singles. David Nieto defeated Michael Ray, 8-5; Thomas Zheng defeated Kyle Detrick, 8-5; Ryan Abbott defeated Ryan Crawford, 8-6; and Zhennan Liu defeated Rob Vernon, 8-5.
"A lot of highlights you can point to," Hudson said. "Take your pick."
The day, however, did not feature optimal tennis conditions. Temperatures dipped to the low 40s, and Hudson had to delay the dual's start by 30 minutes so his players could squeegee the court's rain water.
"It's part of our warm-up routine," Hudson said.
Although LHS emerged from its cold start, the Lions still need to improve in several areas, including limiting unforced errors and returning serves with consistent shots.
"It's an alright day," Frei said. "And we'll go forward from here."
Copyright 2018 The Lawrence Journal-World. All rights reserved. This material may not be published, broadcast, rewritten or redistributed. We strive to uphold our values for every story published.