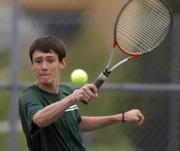 Free State High never has lost to Lawrence High in boys tennis.
Monday, the Firebirds kept the streak intact with a no-doubter: an 8-1 rout at Lawrence Tennis Center.
"We always want to make sure to beat Lawrence High as good as possible," Free State junior Charlie Moffet said.
Moffet, the Firebirds' No. 1 singles player, played a significant role in the drubbing. Relying on his forehand, he defeated Taylor Seratte, 8-1, in singles and combined with Jack Hull to defeat Anthony Frei and David Nieto, 8-4, in doubles.
"He hit a lot of big shots in both the doubles and the singles," Free State coach Jon Renberger said. "He moves so well. He's very fluid around the court. He hits with a lot of pace."
Free State began the day by sweeping the three doubles matches. Considering possible rust and distractions, Renberger expressed relief. Inclement weather canceled Friday's practice, there was no school Monday, and Monday's doubles partners had not played together during duals.
"It was nice to get out to a positive start, winning all of those," Renberger said. "Some of the guys settled down a little bit after that and played very well during singles. Overall, it was definitely a good game."
The victory was almost as dominant as last year, when Free State defeated LHS, 9-0.
For the Lions, another loss to their rival school was hard to swallow.
"It's definitely tough when you lose to Free State," LHS senior Travis Gage said. "Not having much match experience this early in the year with a young team like this is never going to turn out to well."
Lawrence High, which features only two seniors on the varsity and sophomore Taylor Seratte as its No.1 player, should improve as the season goes on.
"We have three sophomores in our top seven," LHS coach Steve Hudson said. "That's the silver lining for me."
Thomas Zheng, the sixth-ranked LHS singles player, served as another silver lining, defeating Mitch Morrow, 8-6, for the Lions' lone victory.
"He just came out and said he felt very confident," Hudson said. "That makes all the difference in the world in tennis. If you're confident, you play well."
After Zheng won, Gage lifted him the air. Gage had not played tennis since junior high, opting for track in previous seasons to prepare him for football season. But the senior tried to impart his leadership to the young squad. During the dual, he scolded teammates who were about to leave before their teammates had finished.
"I'm trying to keep us playing as a team," he said. "It's more of a team sport than it seems like."
As usual, the city showdown featured a reunion for several players. Hudson used to teach at the same racquet club where Moffet trained, and Moffet played with the Lions' Zheng and John McGrew during the summer.
"They're great guys," Moffet said. "It's good to see him."
That sentiment may not have been reciprocated after LHS lost to Free State yet again.
"The undefeated streak is intact," Renberger said. "Any level, any sport, you want to beat your rival. That's just part of a successful season, and so it's nice to get this one in the books."
Copyright 2018 The Lawrence Journal-World. All rights reserved. This material may not be published, broadcast, rewritten or redistributed. We strive to uphold our values for every story published.