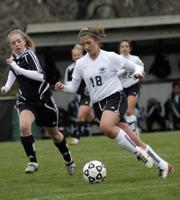 Free State High girls soccer coach Jason Pendleton was quite candid in his assessment following a 3-0 loss to Olathe Northwest at home.
"They're better than us. I think athletically we couldn't match their athleticism," Pendleton said. "I think that's the fastest team that we've played so far this year and they put a lot of pressure on us. I think it's a good team and I felt like we were sound in what we were trying to do, but they just won a lot of the one-on-one matchups - which is unfortunate, but what are you going to do?"
Despite the Ravens being a more athletic team, after recording their first goal in the first 10 minutes of the game it took them another 43 minutes to score again.
Senior goalkeeper Megan Hrenchir was a large reason why the Firebirds were down by just one goal at intermission, with multiple saves needed during occasional defensive lapses.
"She's a very aggressive player and she keeps her composure - she's the heart of the team," senior defender Amanda Vervynck said.
Pendleton was also impressed with the performance of his goalie.
"She made several big plays today, coming down and closing them down when they had point-blank opportunities, and that's encouraging to see her have some success like that," the FSHS coach said. "That was the sort of keeper that she's capable of being, so that was a positive sign."
The third goal came when a ball ricocheted off a post and was put into a wide-open net by a trailing Ravens attacker.
The Firebirds (0-2-2) showed signs of being able to attack the Olathe Northwest defense, but most of their runs ended due to passes being cut off as they were approaching the offensive side.
"I thought that probably was the best we've passed all year," Pendleton said. "There were times we connected a good series of passes or it looked like we were about to get into the attacking third and create something, but I think their athleticism at some point negated what we were trying to do.
"I'm actually really proud of how we responded when we went down 3-0. I felt like we became even more aggressive. He (O-Northwest coach Mark Sheldon) subbed a few players, but we actually I thought continued to play hard and picked it up and actually didn't bow our heads and were trying to get forward and create goal-scoring opportunities."
It was that aggressiveness and the growing improvement that kept Pendleton from being disgruntled by the loss.
"We're disappointed with a loss, but there were some positive things there that we're going to take forward and try and learn from that and put ourselves in positions to be successful down the road," Pendleton said. "But I feel like we're getting better despite the loss, and I think we just ran into a team that was probably just better than us today."
Free State will be on the road for the next two games, facing Topeka High on Saturday, then Washburn Rural on Monday.
Copyright 2018 The Lawrence Journal-World. All rights reserved. This material may not be published, broadcast, rewritten or redistributed. We strive to uphold our values for every story published.