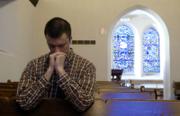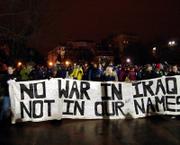 Jon Dennis has received a lot of attention lately, and not all of it is what you'd describe as pleasant.
The Kansas University senior from Hutchinson has been profiled, jailed, praised and mocked - all for trying to end the Iraq war. He's not just a peace advocate. Dennis is part of a growing movement of Christians who are trying to bring about peace.
In March, Dennis joined a number of other Christians in Washington, D.C., as a part of Christian Peace Witness for Iraq. About 3,000 people descended on the National Cathedral for an ecumenical service in an effort to "withdraw Christian support from the war in Iraq," Dennis said. The service was followed by a number of workshops on ways to end the war.
"It was a full house," Dennis said. "All the workshops had a faith and social dialogue aspect."
After the service and workshops, many members of the group embarked on a 4.5-mile protest march to the White House. It was there that Dennis - and about 220 other protesters - were arrested for crossing a police line or failing to obey officers' instructions.
"We went across the street from Lafayette Park, stopped and prayed in front of the White House," Dennis said.
It's against the law to stop and block movement on the sidewalk in front of the White House.
Dennis paid a $100 fine before he returned home.
Dennis was able to travel to the event because the Oread Friends Meeting, better known as the Quakers, encouraged him to attend. Dennis recently joined the Quaker faith.
"They not only wanted to support the cause, but also to sponsor a student to get those experiences," Dennis said.
Dennis was joined on the trip by several other KU students, including Beth Ruhl, a Lawrence sophomore.
While Dennis attended a workshop on civil disobedience and participated in the action that led to his arrest, Ruhl chose to train as a peacekeeper.
Ruhl wasn't arrested; her role was to facilitate discussion between protesters and police or counterprotesters.
Ruhl represented Ecumenical Christian Ministries by taking a 4-year-old banner protesting the war in Iraq. The banner says "NO WAR IN IRAQ, NOT IN OUR NAMES," and is part of a vigil students are having all day every Monday through April at KU's Danforth Chapel.
"People who are supportive of what we believe are really excited about what we're doing," Ruhl said. "I've been really surprised by the number of Iraqi and Middle Eastern students who've come up and told us how excited they are."
The vigil is part of the increasingly visible Christian movement to end the war in Iraq.
Thad Holcombe, a campus minister at the ECM, said the difference now is that more conversations are happening about whether the strategy being used in Iraq is even capable of bringing about peace.
"You don't use a model where there's victory and then there's peace," Holcombe said. "You have to have peace, then victory. Many in the Christian community - and Jewish and Muslim - are saying we can't use the same method of solving problems with war."
Holcombe suggests that the country is at a pivotal point in its history, which seems to have energized the faith community.
"Things seem to be in place for the making of an empire, which is contrary to a program that comes out of the faith community," Holcombe said. "No state should be in charge of the world. That's the Holy's role."
Ruhl and Dennis both stressed that the importance of their movement is to help remove Christian support for the war.
Holcombe said the long tradition of Christians opposing violence is only now getting attention because of an effort to tell leaders that war isn't Christian.
"There's been a re-examination of what the community of faith is about," Holcombe said. "We've been complicit in this war."
Dennis, Holcombe and Ruhl all said that what they hope to do is elevate the community's consciousness. For now, they're hoping their vigils at Danforth Chapel help make that possible.
Copyright 2018 The Lawrence Journal-World. All rights reserved. This material may not be published, broadcast, rewritten or redistributed. We strive to uphold our values for every story published.