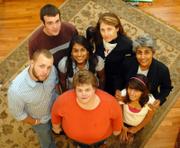 When friends of Kansas University student Scott Klopfenstein returned from Zimbabwe two years ago and asked him to edit video footage they took on a trip there, he couldn't have guessed what he would see.
The footage showed some people living in poverty and some in oppression.
"I'd say the most shocking thing is the government was destroying people's houses," he said. "I never had any conception that there was still government that behaved in this manner or were that corrupt."
The resulting documentary he made for his friends, Mininder Kaur and her daughter Simi Singh, was the seed that germinated into Project Scio.
Singh, a junior at Lawrence High School, describes Project Scio - the Latin verb for "to know" - this way: "We are a youth-adult partnership that is dedicated to developing human and altruistic ideals," she said.
In two years, the nonprofit Lawrence group has raised money to build a house for a family in Zimbabwe and provide medical assistance for an impoverished village in Haiti.
On Saturday, Project Scio will have a fundraising carnival - complete with moonwalking, concessions and bungee walking - from 10 a.m. to 3 p.m. at the East Lawrence Recreation Center, 1245 E. 15th St.
Kaur said she expected the event to raise between $2,000 and $3,000 to defray operating costs for the group and help plan another project.
She said Project Scio has attracted 12 members since it began two years ago.
"Folks were so hungry to do more," Kaur said. "Since then, kids in Lawrence High as well as some kids that are going to KU insisted that we go to an organization that has nonprofit status."
Singh said plans for an upcoming project include establishing a pet adoption program in areas of Puerto Rico where the proliferation of stray dogs and cats has become a problem.
Project Scio has taught Singh about how difficult life can be outside the United States.
"I think, if anything, it made me more aware of the poverty and hardships and suffering in the world," she said. "I've always been told there's poverty in the world and people suffering, but I had never seen it before."
Copyright 2018 The Lawrence Journal-World. All rights reserved. This material may not be published, broadcast, rewritten or redistributed. We strive to uphold our values for every story published.