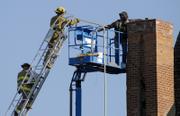 Fire crews used a ladder to rescue a worker from a tower atop Lawrence's oldest church Wednesday evening after the tower started to collapse during a remodeling project.
After the rescue at Plymouth Congregational Church, 925 Vt., the bigger challenge began: finding a way to safely bring down the rest of the crumbling tower. Crews planned to work into the night wrapping it with fencing material and using a crane to lift it down intact. They ended up knocking down the tower with a wrecking ball late Wednesday.
Traffic remained blocked Wednesday night in the 900 block of Vermont Street. Church events scheduled for today, including a noon holy week service, have been canceled.
The scene began about 5:15 p.m. Wednesday. Workers from Mid-Continental Restoration Co. Inc. of Fort Scott were filling the hollow brick tower with mortar in an effort to stabilize it in light of last year's windstorm that knocked down two other towers at the 137-year-old church.
"We realized that we needed to stabilize all the towers," said Peter Luckey, the church's pastor.
As the workers poured mortar into the center of the tower, it burst outward. Mortar flowed out of the tower and onto the church's roof, and bricks fell to the sidewalk below.
The only thing holding up the rest of the tower was the edge of the workers' boom truck, Lawrence-Douglas County Fire and Medical Chief Mark Bradford said. When rescue workers arrived, the worker who had been atop the tower was leaning halfway out of the truck's bucket, with his upper body spread against the tower for stability.
Bradford said the man, whose name wasn't released Wednesday night, was tethered to the truck and wasn't in imminent danger of falling. Still, he didn't try to climb off the tower until a firefighters' ladder had reached him.
Luckey said it was too early to estimate the cost of the damage.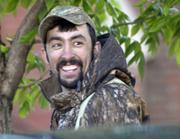 Copyright 2018 The Lawrence Journal-World. All rights reserved. This material may not be published, broadcast, rewritten or redistributed. We strive to uphold our values for every story published.