Photo Gallery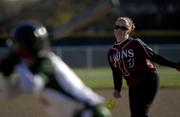 LHS softball vs. SM South
Lawrence High softball had issues recording final outs at Holcom Park on Tuesday.
As a result, the Lions were swept by Shawnee Mission South, 2-1 and 11-1.
All 13 runs scored by the Raiders came while there were two outs in an inning.
"I think some of that is the inexperience we have on the mound," said LHS coach Reenie Stogsdill, addressing the team's inability to get the third out. "And otherwise, it's just mentally being in the game."
The Lions scored the first run of the day in the bottom of the second. After a single by Amanda Weishaar to start the inning, Sam Hays sacrificed Weishaar to second. A Raiders error while trying to throw out Kasie Welborn at first allowed Weishaar to come home.
Sydney Seratte went all the way on the mound in Game One. She didn't allow a runner to reach third until the final inning, when with two outs she hit a batter, then gave up consecutive singles to earn the loss.
"I told the girls early on that one run is not going to win this ballgame," Stogsdill said. "And we sat on that one run for too long, and it ended up biting us in the butt. We're not going to win very many games this year scoring one run. I guarantee it. People are going to score on us, so we've got to produce runs, and we didn't do that today."
In the second game, LHS once again took a one-run lead early when Brittaney Krug was brought in by Weishaar in the first. However, the very next inning SM South posted four runs.
Seratte gave up seven runs before being relieved by Welborn with two outs in the fourth.
While the Lions were able to collect eight hits in Game Two against the Raiders' starter, all were harmless singles - and no more than two came in the same inning.
"We need to string our hits together more," Lawrence's Kalli McClure said. "Losing four (games) in a row at the beginning of the season is hard. But I think we just need motivation, and I hope this is it."
McClure had the best day at the plate with a 3-for-3 performance in the nightcap. Unfortunately, the No. 9 batter never advanced past second.
"She didn't come up a lot and get those opportunities," Stogsdill said of McClure. "But I was very impressed with how she played today. Defensively, she was very strong, and offensively, she stepped up at the plate. So that's a good thing to see out of a junior."
Lauren Kelly was the only other Lion with multiple hits in the late game, going 2-for-4.
Next up for Lawrence is a pair of games at Olathe Northwest on Friday before returning to Holcom on Tuesday to play host to Shawnee Mission East.
SM South 2-11, Lawrence 1-1
First Game
Shawnee Mission South0000002-251
Lawrence0100000-120
W-Drake. L-Sydney Seratte.
LHS highlights: Hannah Somers 1-for-3, Amanda Weishaar 1-for-3, run.
Second Game
Shawnee Mission South0412031-11162
Lawrence1000000-183
W-Drake. L-Sydney Seratte. 2B-Shawnee Mission South 5, Lawrence 0.
LHS highlights: Brittaney Krug 1-for-4, run; Lauren Kelly 2-for-4; Amanda Weishaar 1-for-4, RBI; Katie Grom 1-for-3; Kalli McClure 3-for-3.
Copyright 2018 The Lawrence Journal-World. All rights reserved. This material may not be published, broadcast, rewritten or redistributed. We strive to uphold our values for every story published.