Free State High tennis player Charlie Moffet didn't want to blame the wind for his struggles.
But it would be easy to excuse the Firebirds' No. 1 singles player for complaining. He faced a state runner-up, a state qualifier and a freshman who didn't play like a freshman Tuesday at the Free State quadrangular.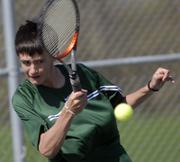 And then there was the wind. Shots he usually puts in play sailed long, and hitting into the wind was like hitting a Wiffle Ball.
"I think the wind got to me in my head," Moffet said. "I can't really remember a practice where the wind has been this big. Still, really that's not an excuse."
Moffet finished the day 0-3. His teammates faced the wind, but they didn't face the same kind of opponents and fared better.
FSHS beat Topeka Seaman, 3-1; tied Shawnee Mission North, 2-all; and lost to Olathe Northwest, 1-3.
Lawrence Free State coach Jon Renberger used the quad to experiment with his lineup.
With two duals already postponed this season because of rain and the Firebirds playing only their second competition of the season, Renberger still hasn't settled on a lineup.
Then Blaine Koehr, Free State's No. 2 singles player, misjudged a ball and fell on his knee in his first match. Koehr finished his match and won, 8-3, but his bruised knee kept him out of action the rest of the day and left Renberger in a quandary. He mixed and matched three different times before finally settling on a new lineup.
"Things didn't quite go in terms of the lineup like we planned, but all in all I think some questions were answered in giving us some better direction from this point on," Renberger said.
The Firebirds were most successful in the No. 2 singles slot.
After Koehr went down, Jack Kull stepped in and beat Zac Williams of Olathe Northwest, 8-1, the Firebirds' only victory against the Ravens. Adam Casady played the final match of the dual for the Firebirds after sitting all day and won, 8-5, against SM North's Kris Bilyew.
With Moffet and Hull - usually the No. 1 doubles tandem - playing singles matches in the quad, Patrick Spurgeon and Mitch Morrow moved into the No. 1 slot. Spurgeon and Morrow went 3-0 in the team's opening quad last week in Topeka, but struggled Tuesday after winning their first match, 8-2.
Spurgeon and Morrow dropped their final two matches, 8-0 to the Ravens and 8-5 to the Indians.
"We didn't play to our potential," Morrow said. "I think if we would have played close to our potential, we would have beat at least one of those teams."
After winning their first match, Spurgeon and Morrow had to wait awhile for their second match, and both said they lost their rhythm.
"I think we could have played a lot better," Spurgeon said. "I think when both me and Mitch are both on, we could have beat all three of the teams we played."
Spurgeon, Morrow and the rest of the Firebirds will be back on the courts today against SM South. Free State and SM South are making up a dual that was rained out last week. Matches begin at 3:30 at Free State.
Copyright 2018 The Lawrence Journal-World. All rights reserved. This material may not be published, broadcast, rewritten or redistributed. We strive to uphold our values for every story published.