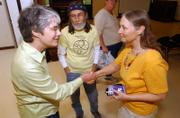 As pictures flashed on the screen in the front of the room, former members of Lawrence's Appropriate Technology Center laughed, and looked and remembered old friends from the group's activities in the early 1980s.
More than 20 years later, about 25 people showed up at the South Park Recreation Center to celebrate their efforts in promoting self-reliance in food, health and energy. In many ways, the group was ahead of its time, which probably contributed to the center closing.
Daniel Bentley, one of the original center founders, was excited to be able to reminisce on days past.
"It would have been good if there'd been more people, but this is good," he said.
Bentley put together the slide show, which showed members cultivating food, repairing bicycles and otherwise enjoying one another's company while promoting activities that don't consume natural resources.
"We were right on then," Bentley said, "and we still believe we're right on now. There's tons of information out there people can tap into."
In many ways, the group's activities have passed on to a new generation of individuals, who want to promote respect for the environment. One member of the Lawrence Sustainability Network joined the reunion as a way to look back on what others had already done to help Lawrence.
"I know a lot of the people. I see a lot of the activities they did, and I want Lawrence Sustainability Network to do them, too," said Steve Stemmerman, a leader of the network.
Stemmerman encouraged anyone with interest in the idea of living in a way that doesn't consume as many resources to visit the group's Web site at www.lawrencesustainability.net, where the group offers tips and news on the movement. The group also holds seminars regularly, usually at the Ecumenical Christian Ministry building near the KU campus.
Information on those sessions is also available on the network's Web site.
The network has set out to create a resource for anyone to be able to find out how to live a life that is less focused on consuming limited resources.
And as trendy as that idea is now, the Appropriate Technology Center was doing the same thing for Lawrence more than 20 years ago.
Copyright 2017 The Lawrence Journal-World. All rights reserved. This material may not be published, broadcast, rewritten or redistributed. We strive to uphold our values for every story published.