Kevin Pritchard paid his dues in climbing to the top rung of professional basketball.
"There was a time I had to go to Wal-Mart and buy the jockstraps. That's as humbling as it gets," said former Kansas University basketball guard Pritchard, who Thursday was named general manager of the Portland Trail Blazers.
His promotion from assistant GM capped a rapid rise in the ranks for Pritchard, who in 2001 shopped for players and equipment alike while coaching the American Basketball Association's Kansas City Knights.
"It doesn't feel that quick. Seven years ago I started in the minor leagues," Pritchard said. "The joke around the office is I've done everything in two years here except apply for a sales job or janitor job."
Pritchard's easy-going, fun-
loving personality - "Hey, my name is spelled wrong : no, not really," he joked after being presented a Blazers' jersey with his name on the back at Thursday's press conference in Portland - is one of the reasons the Blazers made the 39-year-old the league's youngest GM.
The man who worked for the San Antonio Spurs as a scout from 2001 to '03 before joining the Blazers as director of player personnel is popular with management and players alike.
He welcomes text messages from owner Paul Allen during games and phones and 'texts' players all the time to praise them after their stronger showings.
'It says that I care'
What's more, he became a fan-favorite this past season after admitting he logs onto Internet message boards and enters chat rooms to catch the pulse of the Blazers' most demanding supporters.
"It says that I care," said Pritchard, who wept openly after thanking his players for their effort following his final game as Blazers' interim head coach at the conclusion of the 2004-05 season, after which he became assistant general manager.
"There is a misnomer that the GM has all the answers all the time. It's not that way. For lack of a better way to put it : I search for the 'truth.'
"I work for an owner who wants to bring a championship to Portland. He loves talking about players. He loves this team. That's the only kind of owner I want to work for.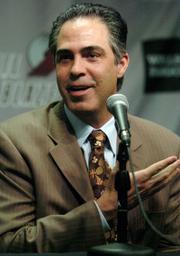 "Our head coach (Nate McMillan) is one of the brightest coaches in the league. We both have a passion for the way the game needs to be played.
"As far as the players," Pritchard continued, "being a bubble NBA guy who also played overseas, having to dig every day to keep a job, I have a good perspective on what players are thinking. I am a very hands-on manager. I talk to them (players) on a daily basis. I am accessible."
"Boy Wonder"
The reason he has been nicknamed "Boy Wonder" in NBA circles, however, has nothing to do with his personality, but with his ability to evaluate players.
Pritchard has been the toast of Portland since the 2006 NBA Draft.
In charge of the Blazers' selections, Pritchard hatched an NBA-record six draft-day deals that landed Brandon Roy, LaMarcus Aldridge and Sergio Rodriguez. All produced productive rookie seasons.
While working under previous GMs John Nash and Steve Patterson, Pritchard signed free agent Steve Blake in 2006 and this season brought in free agent Ime Udoka, who moved into the starting lineup.
"He has a sense for talent, a nose for talent. Kevin has shown that the last couple of drafts," said Blazers owner Allen, a fan of Pritchard's innovative system of statistical analysis in evaluating talent.
Pritchard has a state-of-the-art computer database, complete with quantitative analysis to evaluate potential draft selections.
"Years into the future, there is a lot of exciting basketball to be played by the Portland Trail Blazers because of that draft. Kevin will now be getting a larger spell of responsibility. He will be initiate trade discussions in a different way than the past. I expect more of the same good things he's been doing for us."
Many mentors
Pritchard played for Larry Brown and Roy Williams at KU and also observed ex-Jayhawk assistants R.C. Buford and Gregg Popovich in San Antonio, where they work as GM and coach respectively.
Pritchard said he learned more than X's and O's from those individuals, as well as his high school coach, John Phillips of Tulsa (Okla.) Edison High.
He learned about integrity.
"We've been able to change our culture here," said Pritchard, who arrived in Portland during a time several Blazers ran afoul of the law. "Guys are buying into playing the right way. We're putting together teams fans can believe in on and off the court. That is tremendously important to me.
"It's funny, the staff just called me 'Culture King.' The biggest thing is the culture is the driving force behind winning. It's the little things you do on a daily basis that put you in that right direction. We added a training table this year. We asked guys to be in the community more.
"I interviewed Brandon Roy and heard him say, 'I want to be in Portland.' LaMarcus Aldridge told me, 'I want to be in Portland.' This is important to me. It's an encompassing thing, everybody doing the right thing for the organization every single day.
"I want this to be a program, not a 'hired gun' place where guys come in, play and leave. I want a foundation. The culture has improved in a short period of time. There's a lot of work to be done."
'Lawrence is always home'
Pritchard started as a sophomore on KU's 1988 national championship team and was leading scorer as a senior on the Jayhawks' 30-5 squad that was shocked by UCLA in the second round of the NCAAs.
He was chosen in the second round of the 1990 NBA Draft by the Golden State Warriors.
He played in 94 games during his four years in the NBA, making stops at Golden State, San Antonio, Boston, Miami, Philadelphia and Vancouver. He played three years in Europe before retiring as a player in 1997.
His home base was Lawrence from 1986 until he took the Spurs job 15 years later. He and wife, Shea, who grew up in Lawrence, have two children, K.J. and Kendall.
"Lawrence is always home. I spent so much time there," Pritchard said. "Obviously, I have great memories there. I try to get back as much as I can. I have so many friends that try to keep up with the Jayhawks. I root for them as much as I possibly can.
"Obviously playing under coach Brown and coach Williams : there are no better basketball minds and people to learn from. They are difficult, hard coaches. It was a phenomenal experience. I wouldn't be here today without the University of Kansas."
It was the KU connection that put him in the front office of the pro ranks.
"I've rarely done anything without coach Williams or Brown being involved, Pritchard said. "When I started with the Knights, my goal was to get to the NBA in any way shape or form. I wanted to be at the highest level of basketball, just like players who want to be called up. When given a chance by R.C. (Buford) to be a scout, I couldn't turn down working for one of the best franchises in all sports. I gained a lot of experience and feel lucky to have that experience."
He hopes his alma mater is rewarded with a national title in the near future, perhaps as early as next season - the 20th anniversary of his squad's national-title win over Oklahoma.
"The tough thing about the NCAA is it's one and done," Pritchard said. "If you don't play well on a given night, you are gone. I was really hoping for this (last) team. I felt they played the game the right way. Coach (Bill) Self did a good job getting them to compete hard every night. It made them fun to watch. I was proud of that team and what they accomplished."
As far as the Blazers : "I bleed this team. I have the past 2 1/2 years," said Pritchard, who drew the admiration of coach McMillan and the players when he stormed onto the court in Los Angeles to support his team when a heated confrontation developed in a game with the Lakers.
"We're going to bring a championship to Portland. There's nothing I want more than to bring the pride back to Portland."
Copyright 2017 The Lawrence Journal-World. All rights reserved. This material may not be published, broadcast, rewritten or redistributed. We strive to uphold our values for every story published.