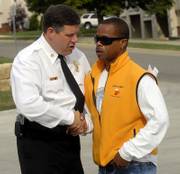 The cause of the deadliest Lawrence fire in recent memory will remain a mystery.
Chief Mark Bradford of Lawrence-Douglas County Fire & Medical said Friday that the cause of a Sept. 17 fire at 1205 N.J. that left five people dead officially will be listed as undetermined.
"We feel like we have turned over every stone," Bradford said.
Bradford said investigators determined the fire started on the front porch of the East Lawrence home. The chief said there were two possible causes that investigators could not rule out: an electrical problem or a "human factor." Bradford said there was not enough information to rule out arson, or that it had been accidentally started by someone.
But Bradford also said that investigators found no evidence at the scene or during the course of 60 interviews with family, friends and neighbors that would indicate arson.
Arson couldn't be entirely ruled out, he said, because with the late-night fire starting on the front porch it would have been easy for anyone to have walked up to the home and set it ablaze. Bradford said the only way to know whether that occurred would be through witnesses, which have been scarce in the case.
Bradford said the lack of witnesses and the extensive damage done to the home were the largest challenges in determining a cause.
The fire killed Charles Glover Sr., 66, and four of his grandchildren: Nolan Vender, 13; DaVonte Brockman, 11; Mario Johnson, 2; and Mariyana Johnson, 13 months.
Glover's son said Friday that the lack of a cause hindered the family's healing process.
"There is just no closure for us yet," said Charles Glover Jr.
But Glover Jr. said he did not find any fault with the investigation.
"We appreciate what everybody has done," he said. "We appreciate how hard the firefighters have worked. We would like to know more just like they would like to know more."
Bradford said that both nationally and in Lawrence about one-third of all fires are listed as having an undetermined cause. He estimated more than 1,000 staff hours were spent on the investigation, which also included investigators from the U.S. Bureau of Alcohol, Tobacco, Firearms and Explosives, the Kansas State Fire Marshal's Office and the Lawrence Police Department.
"Our investigators would have liked nothing more than to provide a conclusive result in this tragic loss," Bradford said. "We sympathize with the family and their need to have closure."
Fire at 1205 N.J.
Fatal fire at 1205 N.J.
Copyright 2018 The Lawrence Journal-World. All rights reserved. This material may not be published, broadcast, rewritten or redistributed. We strive to uphold our values for every story published.