Talk about a rivalry.
Lawrence High's No. 1 tennis player, senior Lauren Kelly, faced an opponent Monday - crosstown foe and Free State senior Leigh Luina - against whom she has competed since the seventh grade.
"It was fun to play against her and see how much better she has gotten over the years," said Kelly, who attended Southwest Junior High while Luina attended West Junior High. "We would always go back and forth as to who won. It was nice to beat her."
The latest singles match at the Lawrence Tennis Center went Kelly's way, but Luina and Free State enjoyed the ultimate satisfaction, winning two of three doubles matches to earn a 5-4 victory.
Free State's Luina and Julia Guard defeated Lily Boyce and Lucy Liu, 8-4, and the Firebirds' Molly Fyler and Holly Maygers defeated Joanna Wakeman and Becca Dirks, 8-5
LHS could only counter with one triumph in doubles, as Kelly and Kelly Morgan defeated Maggie and Rosie Hull, 8-5. That gave Free State the final edge as the teams split the four singles matches.
Guard, also the Firebirds' No. 2 singles player, gutted out the doubles win despite sickness. After winning the doubles match, she slumped to the pavement and held her stomach.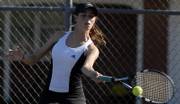 "Today I had to step up because she wasn't feeling very well," Luina said. "She was still in there. She had good saves and good shots."
Free State coach Jon Renberger ended any chance of Guard playing in the singles match by insisting she sit out, and his team adjusted.
"We overcame an illness to one of our top players," Renberger said. "Going into singles, we had two options. We could've forfeited at the two, and our three through six would stay where they were, or we slide everybody up."
Free State chose option No. 2, giving each of its players a tougher matchup, yet still showed superior skill to win the day despite using a depleted squad.
But LHS coach Steve Hudson, who is in his first year, expressed pride that his girls played a tough Firebirds squad close after losing to them 6-3 last year.
"I'm extremely proud of the team," Hudson said. "To go 5-4 is something I'm extremely proud of ... They played hard, and for the most part we played some of our best tennis of the year and at the right time."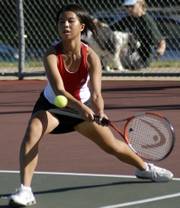 Hudson could take pride in several things. Boyce won her first singles match of the year. Kelly hit the ball aggressively and placed her volleys well. Instead of the spinning serve she had practiced, she relied on an effective slow, soft serve against Luina in her 8-3 victory.
"She probably wasn't used to that slow a serve," Kelly said.
Kelly triumphed despite informing Hudson that her serving "wasn't very good" during the practice rounds.
"I told her the next time she tells me that, I'm going to give her a high-five,'" Hudson said. "She came out with guns blazing. Her serve was on."
Hudson's team may have lost, but he sees Monday's match as something to build on.
"We have some very happy girls today," Hudson said.
Tennis Results
Singles
Lauren Kelly, LHS, def. Leigh Luina, FSHS, 8-3
Kelly Morgan, LHS def. Molly Fyler, FSHS 8-6
Holly Maygers, FSHS, defeated Lucy Liu, LHS, 8-0
Maggie Hull, FSHS, defeated Becca Dirks, LHS, 8-4
Lily Boyce, LHS, defeated Becca Sheldon-Sherman, FSHS, 8-6
Laua Watkins, FSHS, defeated Joanna Wakeman, LHS, 8-3
Doubles
Luina/Julia Guard, FSHS, def. Boyce/Liu 8-4
Fyler/Maygers def. Wakeman/Dirks 8-5
Kelly/Morgan def. Hull/Rosie Hull, FSHS 8-5
Copyright 2018 The Lawrence Journal-World. All rights reserved. This material may not be published, broadcast, rewritten or redistributed. We strive to uphold our values for every story published.