Approximately 500 people walked through and around downtown Lawrence after dark Saturday night.
But they had lights inside their balloons and their enthusiasm for fighting against cancer to lead the way.
"Blood cancers affect people of all ages, and every five minutes someone is diagnosed," said Megan Clemens, a campaign manager for The Leukemia & Lymphoma Society.
The society's third annual Light the Night Walk fundraiser started and ended at South Park Saturday with a fireworks display at 8:15 p.m.
Volunteers and cancer survivors participated in the evening games, a silent auction and the 1.7-mile walk around downtown Lawrence.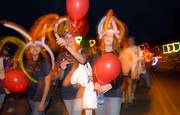 One year ago, participants in the Lawrence area raised more than $30,000. Organizers hoped to exceed $40,000 with this year's effort.
Clemens said volunteers were still counting donations made through the Internet and other sources, but they expected to top the mark.
Lawrence businesses and organizations formed several teams, and Kansas University students formed others. Two teams led by high school students also participated.
"Everyone is just so passionate about it. I've had a team of high school students get behind this cause like you wouldn't believe," Clemens said.
Copyright 2018 The Lawrence Journal-World. All rights reserved. This material may not be published, broadcast, rewritten or redistributed. We strive to uphold our values for every story published.