Olathe — Football teams don't win when they cough the ball up six times. It just doesn't happen.
Uh, not so fast.
Free State turned the ball over a half-dozen times Friday night and still cruised to a 37-21 triumph over Olathe South in a battle of Sunflower League unbeatens at the Olathe District Activities Center.
"That just shows you how good we can be if we don't turn it over," Firebirds' quarterback Ryan Murphy said. "We could have put 50 points on the board."
Believe it.
Except for the turnovers - and 62 yards in penalties - the Firebirds' offense was virtually unstoppable. Free State cranked out 575 yards against one of the best teams in Class 6A. The Firebirds had 33 first downs, the stunned Falcons just nine.
In racehorseing to a 30-14 halftime lead, the Firebirds compiled 407 yards of offense.
"Wow," Free State coach Bob Lisher said. "I knew we were moving the ball well, but :"
Not surprisingly, the quicksilver Murphy twins were responsible for all 407 of those yards. Ryan passed for 181 yards and ran for 122 while Brian rushed for 104 more.
Photo Gallery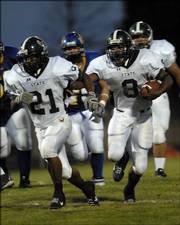 Free State vs. Olathe South
Free State hit the Falcons with a haymaker early when Ryan Murphy connected with wide receiver Craig Rosenstengle on a 67-yard touchdown pass on the game's first play. Only 16 seconds had elapsed when Rosenstengle raced into the end zone after running a slant pattern across the middle and outracing the Falcons' secondary.
"After looking at films," Lisher said, "we thought we had an opportunity to hit that first pass. I felt if we got up we would get excited and go from there."
And so the Firebirds did, scoring on their second possession, too, to snatch a 13-0 advantage and essentially never look back.
The Murphy twins, who had battled cramps in the second half of a couple of earlier games, were 48-minute men Friday night. Brian, who scored three touchdowns, carried 28 times for 165 yards. Ryan, in addition to completing 11 passes for 215 yards, carried 23 times for 171 yards.
Also, Ryan Murphy, who led the league in total offense going in, padded his lead with a whopping 386 yards.
The Firebirds ran 83 plays (to Olathe South's 42) and the Murphys were involved in 78 of them. The twins also played almost every down on defense.
"They were running all over the place," Lisher said. "They probably ran a marathon tonight."
On the flip side, the Murphys were involved in all six of the giveaways. Ryan threw three interceptions and was charged with a lost fumble when he missed a handoff to reserve running back Dale Coons. Brian lost two fumbles.
Rosenstengle was the Firebirds' third option with 139 yards on six receptions.
Overlooked by the offensive explosion was a defense that stuffed Anthony Sanchez, the O-South tailback who entered as the league's second-best rusher. Sanchez settled for 41 yards on 17 carries, and 20 of those yards came on one play.
"We had our doubters," linebacker Andy Petz said about the Firebirds' defense, "but we can into this season with a chip on our shoulders. We've worked hard, and we deserve to be here."
Kyson Ginavan, a wide receiver and free safety, played a role in all the Falcons' scoring. Ginavan caught a 90-yard TD pass, ran a Brian Murphy fumble 37 yards into the end zone and his 28-yard scamper with an interception carried to the two-yard line where O-South scored two plays later.
The Firebirds forced two fumbles (Clark Boatright and Kyle Weinmaster covered them) and Philip Ozorkiewicz, who had earlier kicked a 34-yard field goal, had an interception in the fourth quarter.
"We came out focused today," Ozorkiewicz said.
The Firebirds, now 4-0 and tied with Shawnee Mission West for the league lead, will return to ODAC next Friday to meet Olathe North.
Copyright 2018 The Lawrence Journal-World. All rights reserved. This material may not be published, broadcast, rewritten or redistributed. We strive to uphold our values for every story published.