A mere 16 seconds into its homecoming football game against Leavenworth, Lawrence High owned all the momentum, and any observer could tell the rout was on.
With his blocks set up on the left, senior Nathan Padia streaked down the right side to return the opening kickoff 95 yards for a touchdown. From there, the Lions never let up, pounding the Pioneers, 48-7, Friday night at Haskell Stadium.
Padia, who has scored in every Lions game this season, had another stellar day, totaling 273 rushing, receiving and return yards, including his punt return for a 75-yard score to end the first half.
"He's pretty explosive," LHS coach Dirk Wedd said. "He's pretty special. He's growing up right in front of our eyes."
The senior's performance on kickoffs carried extra meaning for him. After the returners had problems muffing plays in practice and during games, Wedd and the coaching staff stressed better results throughout practice.
"They've been on our butts the last couple of weeks," Padia said. "So it was good to finally come out and get a return."
Although it is safe to say the coaches will back off this week, Padia was not the only Lion to shine. Junior fullback Tyler Hunt finished with 63 yards on eight carries and scored on touchdown runs of 10 and 17 yards.
Senior running back/defensive back Tony Williams excelled on both sides of the ball. He totaled 109 rushing yards on 12 carries, scoring on runs of six and 42 yards.
Photo Gallery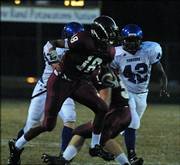 LHS vs. Leavenworth
"Tony just runs the football," Wedd said. "He's got the innate ability to run hard, and he's tough to tackle."
Defensively, Williams intercepted two passes. He returned the first 28 yards for a touchdown with 3:36 left in the first quarter.
"We worked on coverages and stuff all week," Williams said. "I got to the spot and got the job done."
Leavenworth (0-4) showed flashes of talent as well. Its quarterback, Logan Ortiz, threw a touchdown pass and made several nifty runs. But two first-half interceptions and poor special teams play doomed the Pioneers.
"Leavenworth has gotten better every game," Wedd said. "If they could ever stop the turnovers, they'd have a chance to be a really good football team because they're physical up front."
As a result of those turnovers, LHS (2-2) cruised to a 41-0 lead at halftime. The second half, however, became sloppy. Myriad penalties surfaced from both teams. The Lions rested several of their starters, but Wedd said the influx of different players did not lead to the miscues.
"We didn't keep our composure and we didn't show a lot of discipline coming out in the second half," Wedd said. "We've got to show more character, more discipline than that."
LHS, however, did many things right. The Lions rushed for 255 yards, needed to punt only once and limited the Pioneers to 211 total yards. With the score way out of hand, Wedd used the fourth quarter to provide experience for some of his talented but callow backups. Malcolm and Clifton Sims moved the ball effectively, gaining 116 combined rushing yards, while Clint Pinnick took over quarterbacking duties for Chance Riley.
All three contributed on a special night. Prior to the game, Wedd had expressed concern about his team's focus with the distractions of Homecoming. But his Lions seemed energized as they won their first game of the season at Haskell Stadium, evened their overall record and celebrated a festive Friday.
"It was a memorable win," Padia said.
Copyright 2018 The Lawrence Journal-World. All rights reserved. This material may not be published, broadcast, rewritten or redistributed. We strive to uphold our values for every story published.