Long-haired hippies. Dope. Zealous police.
What a difference 35 years doesn't make.
Long before the police checkpoint and high-tech hidden surveillance cameras that caused a stir this summer at the Wakarusa Music & Camping Festival at Clinton Lake, there was Vern Miller.
Miller, then Kansas attorney general, made headlines in the early 1970s for promising to land with "both feet" in Lawrence's hippie-filled drug culture.
And so he did in pre-dawn raids on Sept. 24, 1971. That was 35 years ago Monday.
"We met out here about four o'clock in the morning. It was all full of patrol cars," retired Lawrence Police Detective Don Dalquest said Friday, sitting on a bench at Broken Arrow Park, the improvised headquarters for the raiding party of 80 law enforcement officers from five agencies that Miller led on sweeps through Lawrence.
"Vern Miller was here and he was standing on a bench," Dalquest said. "He told us we were going to be part of a drug raid, that we'd made some buys. We had a bunch of search warrants, and they'd broken us up into teams."
Enduring drug war
Monday's anniversary is a reminder how little and how much things have changed.
Photo Gallery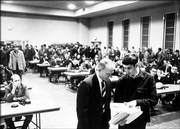 1971 drug raid
"We still have large raids, especially from long-term investigations," said Jeff Brandau, special agent of the Kansas Bureau of Investigation. "They're generally ... a little bit more low-key" than those staged by Miller.
The blond, athletically built attorney general in one raid gained widespread publicity for leaping from the trunk of a car.
Overall, Brandau said, illegal drugs are still a constant source of concern for law enforcement.
"It's rather sad, to be honest with you. It hasn't gotten to be less of a problem. It continues to fester in society," he said.
Restoring order
That morning 35 years ago, about 20 people, mostly Kansas University students and including the son of a judge in another Kansas county, were arrested for charges including selling marijuana and amphetamines and possessing LSD.
Dalquest recalled he was paired with uniformed officers and KBI agents. His assignment as they raided a home on Connecticut Street, he said, was to make sure the suspects didn't flush the drugs down the toilet - something he stopped them in the process of doing.
It was at least the third raid Miller had staged in Lawrence, according to news reports at the time. In the months before the raids, racial tensions and opposition to the Vietnam War had led to violent street clashes between protesters and police.
"There was a need for someone from the law-enforcement community to restore order because there was no order," said Ed Collister, a Lawrence attorney who was an assistant attorney general at the time of the raids.
'Cowboy mentality'
Some people viewed Miller's tactics as grandstanding - or "hot-dogging," in the words of Charles Whitman, a local defense attorney in practice at the time.
"I just don't think it's good law enforcement," Whitman said. "That's just the cowboy mentality. I don't think it turned out to make much of a difference one way or the other in law enforcement or the course of social behavior."
In later years, Miller became a defense attorney and still has a practice in Wichita. He couldn't be reached for this article. But he said in a 2003 interview that he still believed drug dealers should be prosecuted strongly, though he favored a change in Kansas law that provided for treatment instead of prison for drug users.
"My whole philosophy was everybody should obey the laws. If you don't like the law, change it," he said in 2003. "I've got clients, they're addicts and they were arrested for possession. These guys aren't criminals, and they shouldn't be in jail."
Sending a message
In comparison with the roughly 20 people arrested in the 1971 raid, more than 80 people were arrested during the four-day Wakarusa Music & Camping Festival earlier this year - most of them for being minors in possession of alcohol, but many for drugs.
In both cases, the Douglas County jail and the court system required special measures to deal with the increased volume.
In both cases, law enforcement had given a warning a few months ahead of time. Earlier this year before the Wakarusa festival, police warned they planned to double their presence - in part because of concerns about drug dealing and a drug-related death at the previous year's festival - and urged people to leave drugs at home.
Miller's raids in Lawrence began in early 1971. Two months before the September 1971 raid, he had warned publicly that there was still drug dealing in town and that more raids could be coming.
"It was just the way Vern operated. I don't think it was good or bad," said Mike Elwell, who was county attorney at the time. "He was in it to kind of send a message."
Copyright 2018 The Lawrence Journal-World. All rights reserved. This material may not be published, broadcast, rewritten or redistributed. We strive to uphold our values for every story published.