It's been more than 30 years since Vern Miller, one of the state's more memorable attorneys general, earned headlines by fulfilling his campaign promise to "leap into the drug-ridden hippie communes of Lawrence with both feet."
On Feb. 26, 1971, within weeks of taking office, the drug-busting, former Sedgwick County sheriff led more than 150 officers in what was billed as the largest police raid in state history. The searches at Kansas University student quarters brought 30 arrests and accusations Miller was using Gestapo tactics and engaging in political grandstanding.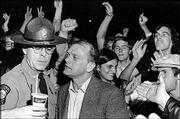 Miller also assured the Attorney General's Office was one most Kansans paid attention to by raiding Amtrak trains to stop then-illegal liquor sales and shutting down backroom slot machines in fraternal and private clubs.
Miller's super-cop flamboyance hasn't been topped by his successors.
But because of various state and federal mandates and various initiatives by Miller and his successors, the office has since grown considerably in its reach and power to shape Kansas society and government.
Money is just one mark of the change. When Miller was in charge, the attorney general oversaw an annual budget of less than $1 million. The current attorney general, Carla Stovall, has a $20 million budget.
In less than a month, Kansas Republicans will head to the polls to choose the candidate they'll send to the general election. The winner of that November contest will take over an office that still is charged broadly with enforcement, but includes other facets reaching into many areas of Kansas life, business and law.
Assorted responsibilities
"You ought to look in the white pages of the index of the Kansas Statutes and look up attorney general," Miller said. "There's three good pages of what all the responsibilities are."
Some responsibilities have not changed. The attorney general still has broad enforcement powers that can affect virtually every Kansan. Attorneys general also have more leeway than most state officeholders in choosing their battles and the issues they wish to emphasize, which gives them an opportunity to leave an individual mark on the office and state history.
Miller got personally involved in policing the state and taught local prosecutors and judges that the attorney general has a key role in guaranteeing Kansas laws are enforced with equal force in every county.
"There's no question in my mind that the attorney general can enforce any law, anytime, in the state of Kansas. It's how active you want to be. It's how you want to take a stand," said Miller, now 72 and a Wichita attorney.
Focuses change
Bob Stephan, who set the longevity record by holding the office for 16 years before stepping aside in 1995, focused on victims' rights, initiated major, ongoing litigation with Colorado regarding Arkansas River water and repeatedly challenged usually with success both governors and the Legislature over laws he considered contrary to the Kansas Constitution.
This special report is the first in a series of stories explaining the office of Kansas attorney general and taking in-depth looks at the candidates running in the Aug. 6 primary.The series will be followed next week by a similar look at the office of the governor and the candidates in that primary race.Here's a look at the schedule:Today It has had a long and sometimes colorful past, and the Attorney General's Office today is one that can affect every Kansan.Monday Chuck McAtee is profiled.Tuesday Phill Kline is profiled.Wednesday David Adkins is profiled.July 21 A package of stories on the governor's race begins with a look at the history and significance of the office in Kansas. Profiles on the candidates will follow.
"One of the misconceptions about the Office of Attorney General is that its chief function is prosecuting criminal cases," said Stephan, 69, now a legal consultant. "That's an important aspect but only one aspect. You have all areas of civil law and consumer protection and Medicaid fraud. It's a wide area of legal concerns."
And the attorney general can push beyond the laws on the books. Some, such as Stephan, have championed new laws or constitutional amendments they deemed necessary.
Stephan promoted the victims' rights amendment now in the Kansas Constitution and urged the Legislature to adopt sentencing guidelines.
Recent attorneys general, including Stovall, have not shied from controversy or battles with other public officials. Those who wish to exercise leadership in the post, can.
Quick learner
Stovall said it was critical the attorney general be a quick study, and flexible enough to change positions when the facts require it.
"Clearly not everybody will come in knowing everything, and I won't leave knowing everything. But you have to be able to learn the issues quickly."
Stovall said legislative experience, which she and her immediate predecessors lacked, also would help. Her own relations with the Legislature often have been stormy.
"When I first took office, one of the things Bob Stephan told me was that his one regret was that he didn't work better with the Legislature. I remember thinking, 'I can overcome that.' But I think it was more than a philosophical difference between me and the conservative right."
Stovall was the first Republican attorney general in the nation to join a national lawsuit against the big tobacco companies. She drew flak for hiring her former law firm to represent the state in the multimillion dollar case. But the resulting settlement money has enriched state coffers.
Stovall also is one of the few attorneys general in the United States pushing for stiffer antitrust sanctions against the software giant Microsoft Corp.
"History will tell on that one as to whether it makes a difference," Stovall assistant Neil Woerman said of the Microsoft case. "But it is another way in which she's exercised her leadership."
Stovall also has led efforts the past two years to modernize the state's criminal data system. Woerman said that had given Kansas a leg up now that the country was focused on fighting terrorism. The data systems that allow law enforcement agencies to share information about criminals and suspects "will form the backbone of homeland security," he said.
Conscience of the state
Woerman, who has worked in the office since 1979 and whose title now is director of budget and special projects, made another point.
"The role of the attorney general is to be the conscience of the state," he said. "By that I mean we live by rule of law, and the attorney general sees to it that the law is followed. Those actions often don't reflect the personal view of the person who is attorney general. But it's important they be willing to take those actions no matter what their viewpoint. It means the general is often misunderstood."
Woerman offered this example: Stephan was generally regarded as a moderate, pro-choice Republican. But as attorney general he sued the state welfare agency to force it to release the names of Kansas doctors who performed abortions after the agency refused to give the list to an anti-abortion group. Woerman said the open records law required the information be released, and Stephan enforced the law.
But there is more than one way to enforce a law or not, and an attorney general's personal style and philosophy make a difference.
Stephan had a rule of making himself accessible to the press and public.
"One day a guy came up to see me to tell me about taking his car in to get it painted," Stephan recalled. "The shop had messed it up and they weren't going to give him his car back until he paid for it. Let's just run out there, I said. We got in my car and we ran out there, and sure enough that's what the guy at the shop said. I told him: 'Hello, I'm Atty. Gen. Bob Stephan and you have two options. One option is this man takes his car. Or the second option is I have your ass in court the next morning.' The guy got his car."
Copyright 2017 The Lawrence Journal-World. All rights reserved. This material may not be published, broadcast, rewritten or redistributed. We strive to uphold our values for every story published.