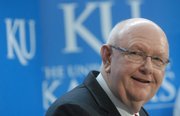 KU's 16th chancellor, Robert Hemenway, announced Dec. 8, 2008, that he would retire at the end of the current academic year. He's been chancellor for 14 years.
Topeka — Kansas University Chancellor Robert Hemenway on Thursday was given a 4 percent pay raise, the same as the leaders at the other state research universities.
Hemenway's annual state salary now will be $250,519, up from $240,884, an increase of $9,635. If private endowment funds are available, the maximum he can earn is $319,280, also a 4 percent increase from last year.
The salaries were approved by the Kansas Board of Regents after a closed session. They take effect immediately and are retroactive to July 1, the start of the fiscal year.
Kansas State University President Jon Wefald and Wichita State President Don Beggs also received 4 percent pay increases.
"Our institutional leaders provide impressive leadership for their respective institutions," the regents said in a prepared statement.
The regents described the increases as modest and in line with what faculty received.
Regional university presidents received much larger percentage increases because their salaries have lagged behind their peers and the national average, the regents said.
"Those significant disparities have become even more apparent to the board during the course of its national search to recruit and hire an outstanding leader to serve as president at Emporia State University," the regents said.
Fort Hays State President Ed Hammond, Pittsburg State President Tom Bryant and newly appointed Emporia State President Mike Lane received raises ranging from 8.4 percent to nearly 10 percent.
Regents president and chief executive Reggie Robinson received a 6 percent pay raise.
Here are the salaries approved by the regents, along with their compensation cap:
¢ Hemenway, $250,519; cap of $319,280.
¢ Wefald, Kansas State, $239,599; cap of $296,400.
¢ Beggs, Wichita State, $209,683; cap of $260,000.
¢ Hammond, Fort Hays State, $190,000; cap of $210,000.
¢ Bryant, Pittsburg State, $190,000; cap of $210,000.
¢ Lane, Emporia State, $190,000; cap of $200,000.
¢ Robinson, regents president, $160,000; no cap.
Copyright 2018 The Lawrence Journal-World. All rights reserved. This material may not be published, broadcast, rewritten or redistributed. We strive to uphold our values for every story published.