For 30 years, Larry Hatfield and 10 friends have played handball at the Lawrence Athletic Club.
"We play Monday, Wednesday, Friday," Hatfield said.
And until this Wednesday, Hatfield had no idea he was breaking the law.
"I'm running with a bunch of criminals and didn't know it," he said.
According to Section 14-405 of the Lawrence City Code, it's illegal "to throw, bat, or propel a ball, stone or any hard substance against any building or vehicle or with the intent to strike any person or property."
That makes popular sports, including racquetball, handball and dodge ball, technically illegal.
"I had no idea," said Frank Alexander, a frequent racquetball player. "But I'm not going to change a thing."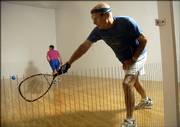 Under the ordinance, which has been in the city code since at least 1979, the penalty for breaking this law is a fine of $25 to $500 and up to a year in jail.
But city staff attorney Scott Miller said he was not aware of anytime police have cited someone involved in a friendly game.
"Obviously, that would be an absurd result," Miller said. "But a strict reading of the ordinance might have made it illegal, so we want to fix that."
Miller has recommended that city commissioners change the code to grant exceptions for these kinds of consensual activities. But because the ordinance tries to protect people and their property, the law regarding hurled missiles as a whole will stay on the books. It's part of a larger project to bring sundry city laws up to date.
"Periodically, you have to review any law to make sure it still squares with the state law and make sure it reflects things that are enforceable in the community, and that's what we did," Miller said.
City commissioners will take a closer look at the updates in the next few weeks.
Copyright 2018 The Lawrence Journal-World. All rights reserved. This material may not be published, broadcast, rewritten or redistributed. We strive to uphold our values for every story published.