Dan Sabatini could get used to this.
For the second consecutive year, a Sabatini-designed project won the Architectural Enhancement Award from the Lawrence Board of Realtors through the organization's River City Recognition Awards program.
This time it was Lawrence-Douglas County Fire & Medical's station and headquarters building at 1911 Stewart Ave., a $4.5 million project that First Management Inc. took from Sabatini's plans and built into a functional firehouse and administrative center using stone, brick, steel and glass.
"It's certainly an honor to be acknowledged," said Sabatini, who won last year for the Hobbs Taylor Lofts downtown. "We've had good clients who have wanted to do quality work and quality design. That's really what makes it happen. We take their good ideas and implement them."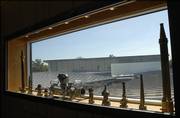 Mark Bradford, the department's chief, accepted the award during a luncheon attended by 83 Realtors and guests at Lawrence Country Club. John Reeves, an architect in Sabatini's office, served as the station's project architect.
Also recognized Tuesday were Marilyn and Tom Dobski, winners of the board's Humanitarian Award. The Dobskis own Dobski & Associates, a Lawrence-based company with 14 McDonald's restaurants in Lawrence and elsewhere in northeast Kansas; among other efforts, the Dobskis are co-chairs of Lawrence Memorial Hospital's ongoing capital campaign.
The architectural award recognizes projects for enhancing the community through design and construction.
The 22,000-square-foot Station No. 5 is the largest for Lawrence-Douglas County Fire & Medical, which consolidated administrative operations in one part of the project and set up an expansive operations center in the other.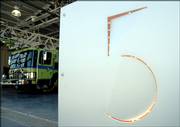 Between the two, a stone wall features a collection of windows and other display cases so that visitors can see artifacts and other materials - including the department's first bell - that have made the operation what it is today.
Such a public mission makes the Realtors' award all the more satisfying, Sabatini said.
Previous winners
Previous winners of the Architectural Enhancement Award from the Lawrence Board of Realtors, through its River City Recognition Awards program: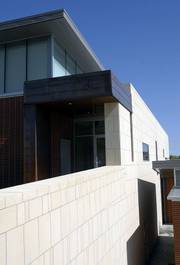 2005: Hobbs Taylor Lofts, northeast of Eighth and New Hampshire streets.
2004: Dole Institute of Politics, Kansas University's West Campus.
2003: Jayhawks on Parade, Lawrence Convention & Visitors Bureau.
2002: 901 Ky. remodel, North Star Venture Group.
2001: ELB Building remodel in the 600 block of Massachusetts Street, Gene Fritzel Construction Co.
2000: Lawrence Aquatic Center, 727 Ky., city of Lawrence.
1999: Remodel of former Phillips 66 service station at 1000 N.H. for Sunfire Ceramics.
1998: Charles Ise Animal Shelter, 1805 E. 19th St., Lawrence Humane Society.
1997: Oread West clock tower, near Bob Billings Parkway and Wakarusa Drive.
1996: Lawrence Visitor Center, formerly Union Pacific Depot, 402 N. Second St.
1995: Landscape gardens at 23rd and Massachusetts streets, city of Lawrence.
1994: Lawrence welcome sign, North Second Street, Lawrence Home Builders Assn.
1993: Renovation/replacement of All-Star Dairy, 110 McDonald Drive; Douglas County Bank, 300 W. Ninth St.
Copyright 2018 The Lawrence Journal-World. All rights reserved. This material may not be published, broadcast, rewritten or redistributed. We strive to uphold our values for every story published.